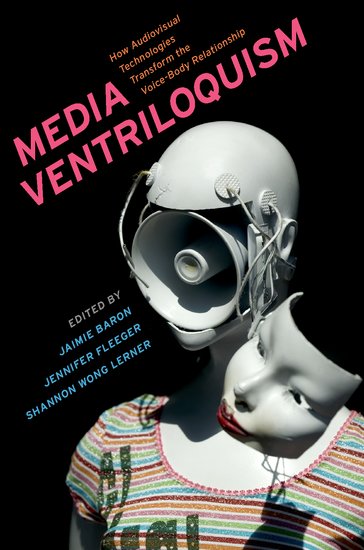 Jaimie Baron, Jennifer Fleeger, and Shannon Wong Lerner (Eds.) - Media Ventriloquism – How Audiovisual Technologies Transform the Voice-Body Relationship
The word "ventriloquism" has traditionally referred to the act of throwing one's voice into an object that appears to speak. Media Ventriloquism repurposes the term to reflect our complex vocal relationship with media technologies.
The 21st century has offered an array of technological means to separate voice from body, practices which have been used for good and ill. We currently zoom about the internet, in conversations full of audio glitches, using tools that make it possible to live life at a distance. Yet at the same time, these technologies subject us to the potential for audiovisual manipulation. But this voice/body split is not new. Radio, cinema, television, video games, digital technologies, and other media have each fundamentally transformed the relationship between voice and body in myriad and often unexpected ways. This book explores some of these experiences of ventriloquism and considers the political and ethical implications of separating bodies from voices.
The essays in the collection, which represent a variety of academic disciplines, demonstrate not only how particular bodies and voices have been (mis)represented through media ventriloquism, but also how marginalized groups – racialized, gendered, and queered, among them – have used media ventriloquism to claim their agency and power.
Table of Contents:
Introduction: Theorizing Media Ventriloquism
Jaimie Baron, Jennifer Fleeger, and Shannon Wong Lerner
Section I: Speaking in Another Voice
Introduction: Reactivating the Vocal Uncanny
Jaimie Baron
Chapter 1: Echoes down the years: technologies of mediumship and immortality
Alicia Puglionesi
Chapter 2: Broadcasting the Diva of Dubbing: Marni Nixon, Local Television, and the Puppetry of Parenting
Jennifer Fleeger
Chapter 3: Queer from the Horse's Mouth: Francis the Talking Mule and Mr. Ed as Midcentury Man Whisperers
Maria Pramaggiore
Section II: Singing in Another Voice
Introduction: Singing the Body Technovocalic
Jaimie Baron
Chapter 4: "Mike Fright": Racial Ventriloquism in the Hollywood Talkies
Ryan Jay Friedman
Chapter 5: The Black Queer/Trans Femme Representation of Beyoncé's Media Ventriloquisms and the National Voice
Shannon Wong Lerner
Chapter 6: Identity Politics and Vocal "Whitewashing" in Celebrity Lip Syncs
Jennifer O'Meara
Section III: Animating the Voice
Introduction: Breathing in Mediated Spaces
Shannon Wong Lerner
Chapter 7: The Mills Brothers, Animators of the Unseen Stage
Jacob Smith
Chapter 8: Performing Fragility: Re-sounding the Gendered Hero in the Voice of Lara Croft
Milena Droumeva
Chapter 9: Double-Ventriloquism and Aegyo in Overwatch
William Dunkel and Aaron Trammell
Section IV: Politicizing the Voice
Introduction: Of Technovocalic Presidents and Precedents
Shannon Wong Lerner
Chapter 10: Ventriloquizing Obama, or, the Ethics of Archival Ventriloquism
Jaimie Baron
Chapter 11: "You're the puppet": Presidential Ventriloquism, Vocal Technologies, and the Politics of Voice
Sarah Kessler
Epilogue
Introduction: Media Ventriloquism in the Distant Present
Jennifer Fleeger
Epilogue: The Ventriloquism of Media: Communication as Delegation and Tele-action
François Cooren, Lise Higham, and Boris H. J. M. Brummans
Paperback, published in 2021, 312 Pages (18 images)
Medium: Book
Related Products