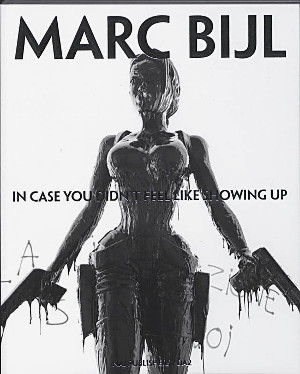 Marc Bijl - In Case You Didn't Feel LIke Showing Up
Dutch artist Marc Bijl (b. 1970) is a highly versatile artist who switches as effortlessly between anarchism, Gothic culture, art and life as he does between the media of image, text and music.
In his early work Marc Bijl reacted to global themes and to popular fascination with symbols of political power, globalization of the economy and nationalism. He employs visual elements borrowed from punk and Gothic subcultures and from anarchism. These elements can also be discerned in his later work: the philosophical quotes in graffiti on walls, flags in various renderings, and the black sculptures of dark knights on horseback, eagles and Lara Croft.
His most recent work is more abstract and minimalistic. The crux is no longer the 'symbolism', but what that symbolism represents and signifies.
This publication presents the most important works realized by Bijl over the last decade, and contains artist's pages into which Bijl himself has injected his creative verve.
Medium: Book
Related Products