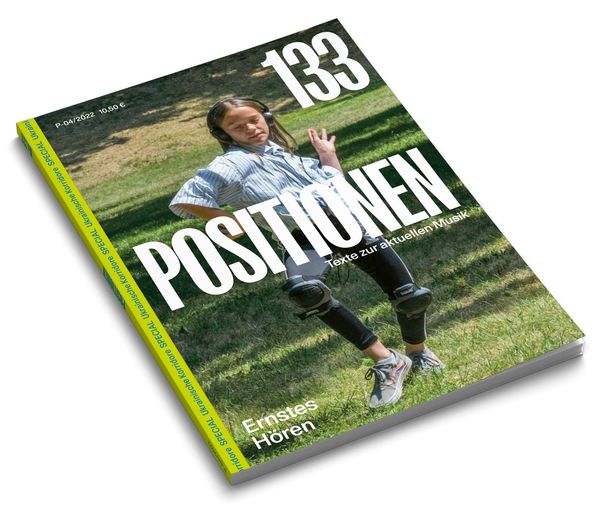 Positionen - Texte zur Aktuellen Musik - Nr. 133 (November 2022)
Ernstes Hören
Auf Deutsch. Listening Spaces, Chillout-Areas, Ambient-Räume, After Hour und Deep Listening. Im Rahmen von Clubkultur bis hin zu zeitgenössischen Musikfestivals gibt es diese Räume zum Verweilen, Eintauchen, Entspannen, Reflektieren u.v.m., die einen anderen Modus versprechen als im Hauptraum, der Tanzfläche, der Bühne oder dem Konzertsaal. Weniger frontal, weniger steif, in vielerlei Dingen also offener präsentieren sich diese Environments. Aber was passiert in ihnen eigentlich? Wie werden andere Arten und Weisen zu Hören etabliert? Wie unterscheiden sie sich von den Haupträumen? Können sie selbst zu dominanten Wahrnehmungsmodi eines »Ernsten Hörens« werden? Werden die Hörer*innen jetzt ›ernster‹ genommen als die Musik selbst?
I    ERNSTES HÖREN
Fabian Peltsch – Die Musik für ein neues Zeitalter: Interview mit Suzanne Ciani
Monika Pasiecznik – Überlegungen zum Konzert heute
Brandon Farnsworth – Die Plattform für experimentelle Musik Sonic Matter in Zürich: Interview mit Lisa Nolte und Katharina Rosenberger
Patricia Jäggi – Was ist Deep Listening?
Ximena Alarcón-Díaz – Deep Listening als eine relationale Praxis
Dylan Spencer-Davidson – Bildstrecke
Patrick Becker-Naydenov – Full Circle? Arbeiten von Amir Sphilman
Maike Graf – Gebrochene und anders verklebte Regeln: Interview mit Georgia Koumará
II   SPECIAL: UKRAINISCHE KORRIDORE
Iuliia Bentia & Andrii Koliada Chornobyldorf – Einige Lektionen zur Gestaltung der Zukunft
Zusammen mit den Zeitschriften Glissando und Seismograf haben Iuliia Bentia und Andrii Koliada die 2020 uraufgeführte und in vielen Aspekten prophetische Oper Chornobyldorf analysiert.
III   POSITIONEN
Heroines of Sound, Berlin; Annesley Black; Postcolonial Repercussions; Documenta Fifteen, Kassel; La Biennale di Venezia; Eres Holz; ManiFeste, Paris; Karen Willems; Münchener Biennale; berlin westhafen; Magdalena Zorn; Jesper Nordin; Åke Hodell, Malmö; Soundings – Listenings and Voices across the Souths; Musiktage Hitzacker; Monstercall; Twisted Shout, Fylkingen, Stockholm; Chaya Czernowin, Klangspuren Schwaz.
Medium: Magazine
Related Products