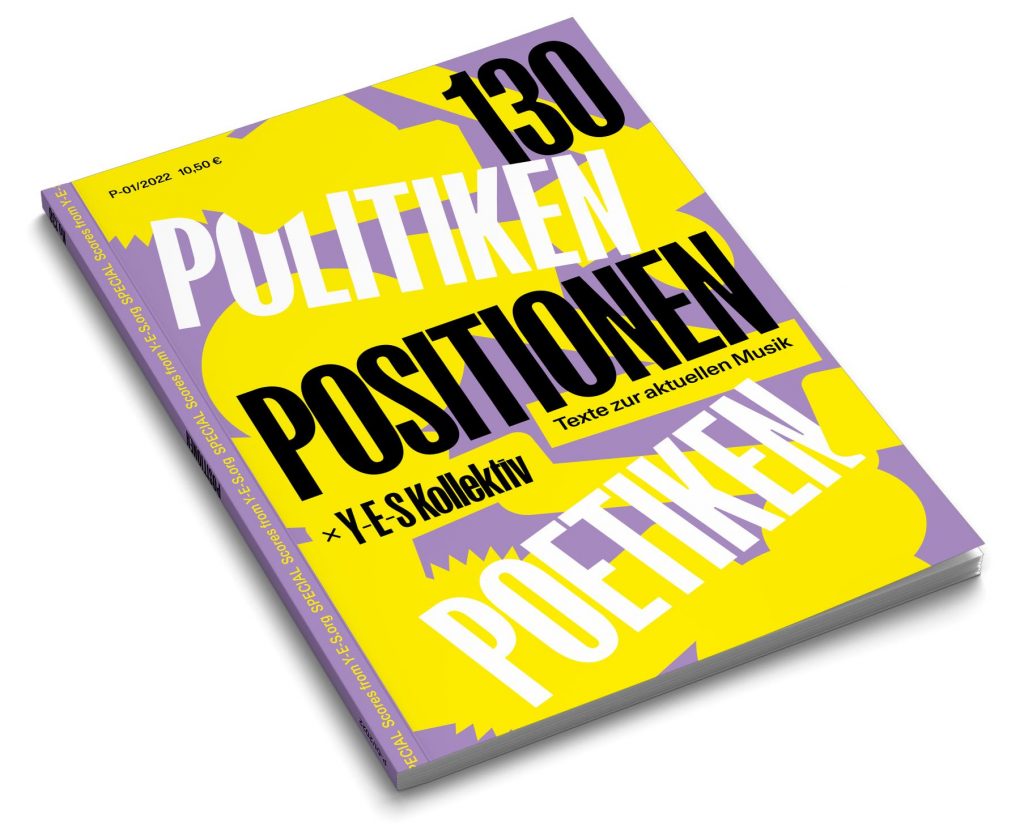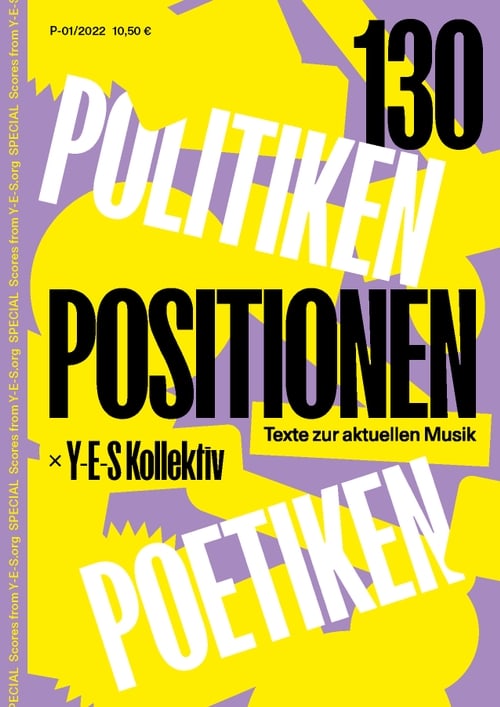 Positionen - Texte zur Aktuellen Musik - Nr. 130 (February 2022)
In German. Great periodical for those interested in contemporary composed music and sound art. And an editorial takeover this time by das Y-E-S Kollektiv!
I  Politiken Poetiken
Anthony R. Green —  Scored Blackness: Widerständige Strategien in der künstlerischen Arbeit von BIPOC-Komponist*innen
Maikon K Gaben des Kreuzwegs: ein poetisches Porträt der brasilianischen Performancekünstlerin und Theoretikerin Eleonora Fabião
Hesam Salamat – Kunst und ihre multiplen Widerstände
Leonie Chima Emeka – Dieser Text ist ein Widerspruch
Jennifer Ramme – Aufbegehren der Kollektive: eine Analyse zu Choreographien in queeren Protesten in Polen
Clara Cheung – Marschieren in Hongkong: über die Nutzung der chinesischen Nationalhymne und deren Politisierung in Arbeiten von Künstler*innen aus Hongkong
II SPECIAL: Scores from Y-E-S.org
Anne Glassner – Napscore
Carolyn Yen Chen – Human Windchimes
Michelle Moura – Coreografia estudo #1
Andreas Dzialocha – GRAFFITI
C.A.S.C.A.T.A. – CACCIA AL TESORO AGRESTE
Ehsan Shayanfard – Warm-Up
III POSITIONEN
Donaueschinger Musiktage; Bernhard Lang; Pianobücher; Pyramidale; Musik21 Hannover; Music and Fuzzy Logic; Listening/Hearing-Symposium Bonn; Spor, Århus; Mark Baden/Clara Iannotta; Festival für Materielle Kunst Hamburg; Amen Feizabadi; Klangwerkstatt; Frau Music Nova; Klangparcours Freiburg – Composers Collective Linz; Peter Ablinger, Biliana Voutchkova, Erik Drescher; Tizia Zimmermann, Pablo Lienhard; 3hd Festival; Musikobjektgeschichten. Populäre Musik und materielle Kultur; Stimme X-Konferenz Hamburg; Elisabeth Schimana, Wien Modern
Editorial:
"Wir sind das Y-E-S Kollektiv: Stellan Veloce, Neo Hülcker, Laure M. Hiendl, Andreas Dzialocha und Kaj Duncan David. Wir sind eine Gruppe von Komponist*innen und Performer*innen mit Wohnsitz in Berlin, die viel im interdisziplinären Kontext arbeiten. Wir sammeln und veröffentlichen Partituren auf unserer Plattform y-e-s.org und veranstalten alle paar Jahre ein Y-E-S-Fest – ein Festival, das von uns veröffentlichte Partituren zur Aufführung bringt, den öffentlichen Raum bespielt und Workshops anbietet.
Unsere Frage an dieses Heft geht dem Verhältnis von Kunst und Widerstand nach. Im Zuge der Auseinandersetzungen mit den Autor*innen hat sich dieser Schwerpunkt von dem mittlerweile auch durch rechte und neurechte Gruppierungen besetzten Begriff des ›Widerstands‹ hin zu der Fragestellung verschoben, inwiefern sich politische Handlungsmöglichkeiten und -räume durch poetische Praktiken eröffnen. Als Leitzitate dieser Ausgabe möchten wir hier die Worte Édouard Glissants voranstellen, dessen Philosophie einer Poetik der Vielheit für die Fragen unserer Zeit eine entscheidende Öffnung bereitzuhalten scheint:
»Die politische Haltung stärkt sich an der direkten Sicht auf die Welt, am Imaginären der Welt. Politische Aktionen gewinnen an Sicherheit, indem sie […] Poetiken anwenden.«
»Wir entdecken dann […], dass die Sprache der Philosophie vor allem die poetische ist. […] Die Schönheit der Differenzen (der Unterschiedlichkeiten) ist die erste Zeugin und entschlossene Akteurin des Widerstands gegen die Nacht des Geistes und gegen jede Unterdrückung.« (Philosophie der Weltbeziehung)
Medium: Magazine
Related Products