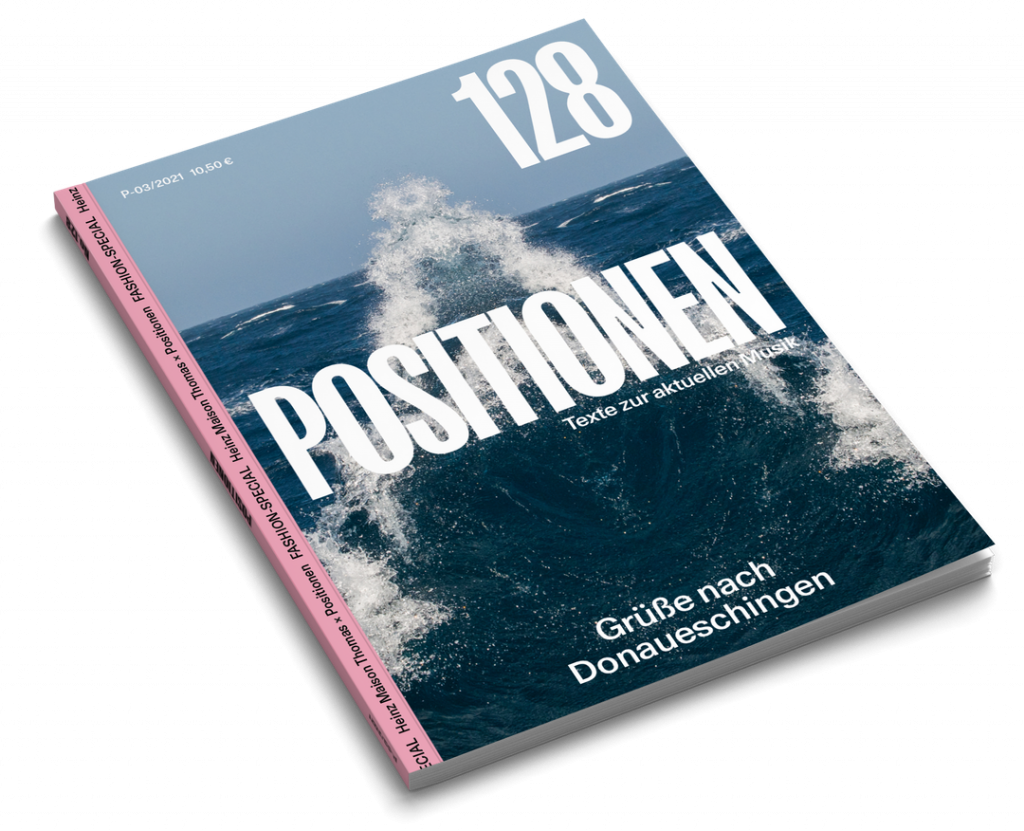 Positionen - Texte zur Aktuellen Musik - Nr. 128 (August 2021)
Best German-language magazine I know for reflections on avant-garde music and sound art. In diesem Heft:
Die Donaueschinger Musiktage feiern 2021 ihren 100. Geburtstag – mit dem Titel »Donaueschingen Global«. Deshalb ist Nr. 128 ein freies Supplement zum Themenkomplex Globalismus und Dekolonialisierung in der Neuen Musik.
"Positionen ist eine global orientierte Zeitschrift, die drauf und dran nach globalen Aspekten und Themen sucht. Anstatt einfach neue Artikel zu China, Kolumbien und Indonesien zu publizieren, haben wir uns andere Fragen gestellt: Welche Prozesse lassen Musik global werden? Welche Prozesse artikulieren neue Wege des avancierten Musikmachens? Wie kann man die Kunstmusik unserer Zeit neu denken?"
Christian Grüny   Wieso jetzt auch noch wir?
Genoël von Lilienstern   Yaanga — Los Angeles
Andreas Karl   Wider die Einbahnstraße — Identitäten im jüngsten chinesisch geprägten Komponieren
Jay Arms   »Made in the USA« — Gamelan Son of Lion und die amerikanische experimentelle Musik
Nico Daleman   The shape of Cumbia to come — Neo-Macondismo oder kolumbianische Avantgarde?
Jessie Cox   Das Drumset als Werkzeug Kreolisierter Welten
Lara Scherrieble   Über Wut und Liebe in the Wake
POSITIONEN
Reviews of: Laurie Anderson: Spending the War Without You 1–3; Alvin Lucier: I am sitting in a Room / Lucier & Bach: Sitting in a Room; Dorrit Bauerecker One Woman Band; Helmut Lachenmann – My Way; Malte Pelleter ›Futurhythmaschinen‹; Alex Paxton: Music for Bosch People; Acht Brücken; Klangwerkstatt Online Festival; Morphine Records; Halim El-Dabh / MaerzMusik Festival für Zeitfragen; Smerz: Believer; Biliana Voutchkova: Under the Veil of Consciousness; Magical Soup; Sisters with Transistors: Lisa Rovner; Foodman: Yasuragi Land; Virtuelle Kunstausübung?: Das Internet als Bühne; Klangbrücken 2021 / Musique spectrale; Ten Cities. Clubbing in Nairobi…; Konstantia Gourzi: Anájikon & Nur wer die Sehnsucht kennt; Trickster Orchestra/Ensemble Extrakte; Adam Neely & Ben Levin: How I Loved My Cat; Wir bringen die Blase zum Platzen!
Medium: Magazine
Related Products