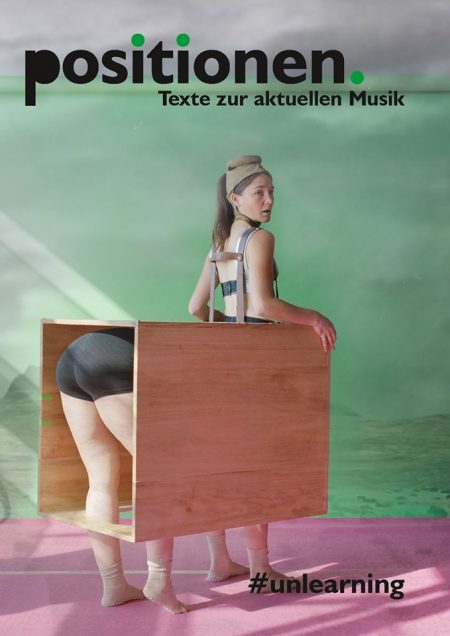 Positionen - Texte zur Aktuellen Musik - Nr. 119 (May 2019)
This magazine is in German language only. But for your info: Positionen presents and goes into dialogue with contemporary music and cultural practices both in the German-speaking area and internationally. The journal was founded in former East Germany in 1988 and is now run from Berlin by the Editors Andreas Engström and Bastian Zimmermann. Positionen presents thematically oriented issues with essays, portraits, interviews, and specials as well as a variety of "Positionen" ("Positions"): Comments on contemporary discourses in recordings, books, festivals, concerts, exhibitions as well as musical aspects in e.g. the visual arts, fashion, and performance.n, and performance.
Now based in Berlin, Positionen is published four times a year. In addition, articles and reviews are published online, too.
Positio=nen #119:  Unlearning
Bastian Zimmerman:  Körper unter Druck – Interview mit Raphael Sbrzesny
Genoël von Lilienstern: Hörempfehlungen
Thomas Groetz: Popkultur in der Neuen Musik: Nichts als Trash?
Rupert Enticknap: Would Mozart wear Balenciaga?
Giuliano Obici:  Taking care of editions – Interview with Gary Schultz‍
Special: Musikalische Zeitfragen II  Die Avantgarde lebt!
‍Patrick Frank:  Affirmative Kritik – eine Skizze
Juliana Hodkinson:  – Hören und Komponieren mit performativen Objekten und Subjekten
Rolf Großmann: – Materialexplosion und Avantgardeanspruch
Medium: Magazine
Related Products