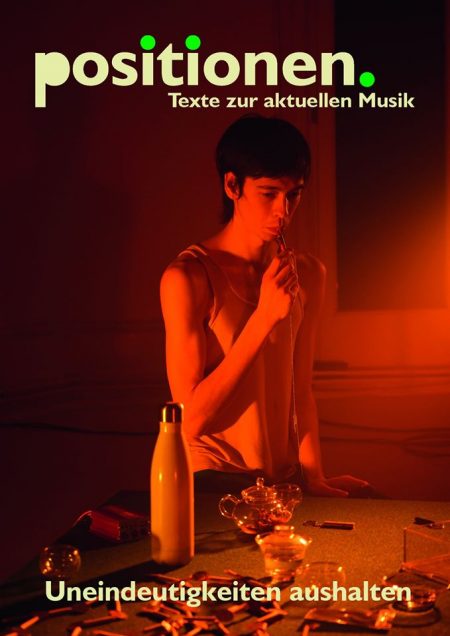 Positionen - Texte zur Aktuellen Musik - Nr. 123 (May 2020)
German language only. Positionen presents thematically oriented issues with essays, portraits, interviews, and specials as well as a variety of "Positionen" ("Positions"): Comments on contemporary discourses in recordings, books, festivals, concerts, exhibitions as well as musical aspects in e.g. the visual arts, fashion, and performance.
Circumstances made the editors decide to make this a Corona-themed issue. The authors took up all the issues that arose in dealing with isolation, artistic creation outside the capitalist paradigm, dismantling hierarchies and designs of future and communities.
However, there is a great diversity: from Carlos Gutiérrez Quiroga's Corona diary from Rheinsberg Castle, to the question of the importance of online concerts and playlists by Lara Scherrieble, Christian Grüny's political assessment of the situation, to Julian Kämper's analysis and parallel management recently realized works with the aesthetics.
Sandeep Bhagwati asks about the possibility of community in and through music. Bhagwati's translation of Cornelius Cardew's lecture »Stockhausen serves imperialism«, which was published for the first time in 1974, offers an exciting, historical supplement to the topic. In "Webcamsexmusik", Bastian Zimmermann investigates in the function of live music performance on an erotic chat-platform. Another research of community and collective music practices is contributed by Dahlia Borsche.
Katja Heldt asks about interesting forms of radical curating and Tomke Braun presents the works by Nile Koetting, which are largely characterized by the waiting situation in an emergency.
"With the current crisis, we are at a crossroads where societies can develop in many directions – one of the dangers is that of right-wing politics, which isolates itself nationally. "Enduring ambiguities" becomes a credo that everyone should work on." (say the editors)
On the cover: Sound and performance artist Nile Koetting.
Medium: Magazine
Related Products