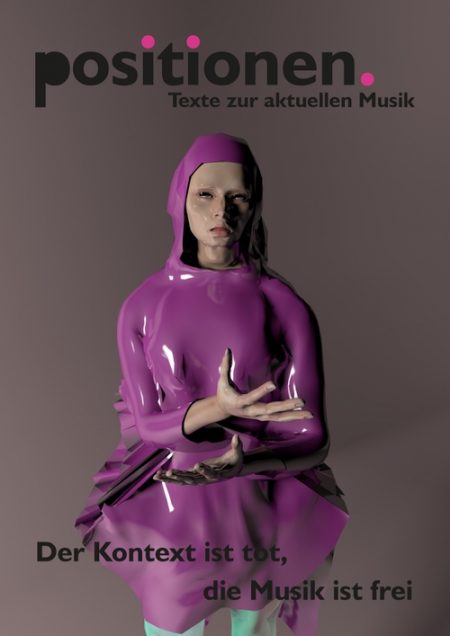 Positionen - Texte zur Aktuellen Musik - Nr. 122 (February 2020)
This magazine is in German language only, but it covers contemporary music and cultural practices both in the German-speaking area and internationally. Positionen presents thematically oriented issues with essays, portraits, interviews, and specials as well as a variety of "Positionen" ("Positions"): Comments on contemporary discourses in recordings, books, festivals, concerts, exhibitions as well as musical aspects in e.g. the visual arts, fashion, and performance.
The journal was founded in former East Germany in 1988 and is now run from Berlin by the Editors Andreas Engström and Bastian Zimmermann.
In this issue:
Bastian Zimmermann    Floating content. Wrong context? – Tilman Kanitz im Gespräch
Nina Guo   Schweigen – Performativität in der Macht der Wahl
Sebastian Berweck   Hanns Eisler, das Novachord und der Toaster – Von einem der auszog, das originale Instrument zu spielen
Genoël von Lilienstern   Fauxtomation, Cherry-Picking, Blackboxing – Über Künstliche Intelligenz in der Musik
Dirk Wieschollek   Befreiung oder Überformung? – Zu einigen Entwicklungen gegenwärtiger Musikkunst im Kontext medialer und konzeptueller Erweiterung
Brigitta Muntendorf   MUSIC TO KIN – Im Wechselspiel von Verwandtschaft und Referenz
Johannes Kreidler   Muss man das alles »Musik« nennen? – Übergänge von Neuer Musik zu MedienkunstAlexander Schubert / Pedro González Fernández    Bildstrecke: Av3ryPositionen:   London Contemporary Music Festival; Øyvind Torvund; Klangforum Wien; Kalvfestivalen; The Snow Queen, München; Sonic Color Line/Stoever; Theatermusik/ Roesner; Simon Steen-Andersen, Donaueschingen; Compositrices, l'égalité en acte; Shapeshifters, Dortmund; Silence with the Consent of Sound, Wüsten Buchholz; Billy J. Bultheel; Sun and Sea, Biennale Venedig; Mia Brentano; Future Soundscapes; Shout out loud/Karen Breece; Orlando/Olga Neuwirth; Ensemble Pamplemousse; Klangwerkstatt Berlin; World Music Days, Tallinn; Heart Chamber/ Chaya Czernowin; rainy rays, Luxembourg
Medium: Magazine
Related Products