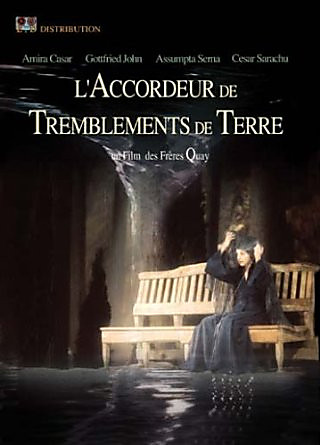 Quay Brothers - L'Accordeur de Tremblements de Terre (The Piano Tuner of Earthquakes)
French DVD version of The Piano Tuner of Earthquakes, from 2005, then the Quay Brothers first long film in ten years:
A 19th-century opera singer is murdered by a demented inventor (Gottfried John) on-stage shortly before her forthcoming wedding. Soon after being slain by the nefarious Dr. Emmanuel Droz, Malvina van Stille is spirited away to the inventor's remote villa to be reanimated and forced to play the lead in a grim production staged to recreate her abduction. As the time for the performance draws near, piano tuner of earthquakes Felisberto sets out to activate the seven essential automata who dot the dreaded doctor's landscape and make sure all the essential elements are in place. Once again instilled with life after her brief stay in the afterworld, amnesiac Malvina is soon drawn to the mysterious Felisberto as a result of his uncanny resemblance to her one-time fiancé Adolfo.
Medium: DVD
Related Products