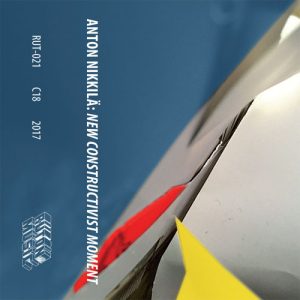 Anton Nikkilä - New Constructivist Moment
Anton Nikkilä is a veteran underground musician in Finland, who in the 1980s was a member of Swissair, together with (the now quite famous film maker) Mika Taanila. Their influences were post-punk and industrial groups, perhaps most audibly, This Heat, as well as Cage, Fluxus and other movements.  Nikkilä now also works as translator, working with Russian music and texts.
Therefore it should be no surprise that New Constructivist Moment is inspired by the historical Russian avant-garde art whose ideas Anton Nikkilä applies in an arbitrary and subjective fashion to another discipline from another era. The main method is stretching and freezing time. "Somehow Anton knows exactly how to control all of his elements – distortion, programming, unpredictable electronic effects – into a perfect, constantly mutating chimera of sounds that cannot possibly exist. It's like seeing the Tatlin tower remade out of breadcrumbs and plasticine, spinning around at the top of a mountain." (Ed Pinsent, The Sound Projector)
Recorded in 2016. Cover by Mika Taanila / Anton Nikkilä. 36 minutes in total.
Medium: Music Cassette
Related Products