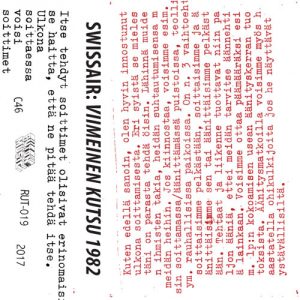 Swissair - Viimeinen kutsu 1982
Swissair, a gang of six seventeen-year-olds from Helsinki, were described by the German music critic Rigobert Dittmann as "neo-primitivist" and "post-Webernian". This was decades after "Viimeinen kutsu 1982" ("Last Call 1982") came out in, indeed, 1982. Anton Nikkilä and Mika Taanila, who since 1980 had ran the cassette label Valtavat Ihmesilmälasit Records, released all of Swissair's four albums.
Nikkilä summoned Swissair for a two-day long recording session in his mother's flat while she was out of town. The session was preceded by handing out typed instructions that detailed various "procedural" methods to be used in the session, written in a mock-bureaucratese probably reflecting his pilgrimages to the art section of Töölö library. Excerpts from this text and his contemporaneous letters to Swissair members are reprinted on the cover.
"Ooppera" was musically inspired by The Residents' opera "Not Available".
"We Could Interview Passers-By If They Seem Friendly" was recorded just before dawn on the first night of the session in a remote corner of a public park in the center of Helsinki using a small battery-operated Soviet Faemi synthesizer, a battery-operated Roland drum machine, an acoustic guitar and an assortment of toy instruments and percussion.
The recordings on the B-side of "Viimeinen kutsu 1982" were done the following day with four Swissair members in a traditional lineup of two electric guitars, bass and drums. The aim was to play music that would be as unmusical as possible and in which no structures, rhythms, melodies and especially group playing could be discerned.
SIDE A:
Ooppera
We Could Interview Passers-By If They Seem Friendly
SIDE B:
5'25
We Must Develop Some Kind of a Notation/Harmonising/Lettering/Numbering System
I Was Supposed to Go to Yugoslavia
Is It a Hat or (Something Else)
The Fourth Rhythm
Medium: Music Cassette
Related Products