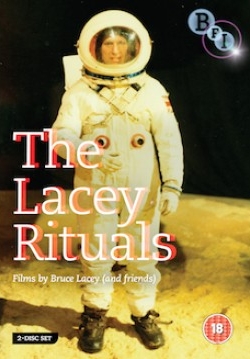 Bruce Lacey - The Lacey Rituals
What links The Beatles, Ken Russell, Peter Cook, Fairport Convention, The Bonzo Dog Doo Dah Band and Turner prize-winning artists Grayson Perry and Jeremy Deller? The answer: Mr Bruce Lacey. A legendary figure on the British counter-cultural art scene during the 1960s, Lacey has enjoyed five decades of defining cultural moments, collaborating with all manner of filmmakers, musicians and artists (such as director Richard Lester, cartoonist Bob Godfrey and artist Jill Smith), and making appearances in such era-defining pop cultural experiences as Help! and Not Only…But Also.
This two-disc collection brings together many of Lacey's rarely-seen films for the very first time, showcasing the rich and diverse talents of a seminal and thoroughly original British artist-filmmaker.
Early films
Head in Shadow (1951)
Agib and Agab (1953)
The Running Jumping & Standing Still Film (1960)
Battle of New Orleans (1960), Everybody's Nobody (1960)
Uncle's Tea Party (1962)
One Man Band (1965)
Human Behaviour Films
Kissing Film (1967)
How to Have a Bath (1971)
The Lacey Rituals (1973)
Double Exposure (1975)
Performances and Documentation
The Flying Alberts (1965)
The Flying Alberts (Bruce Lacey edit) (1965)
Humanoid Race (1965), Universal Integrator (1971)
Laceys at home (1972)
British Landing on the Moon (1973)
Outside in (extract) (1973)
R.O.S.A. B.O.S.O.M. (1996)
If I had a Talking Picture of You (2002)
Performance Inserts
Heads Bodies and Legs (1973)
Stella Chase (1974)
Earth Rituals and Later Films
Awakening of the Earth Goddess, Rougham (1982)
Castlerigg (c.1981)
Wales Stone Circles (c.1981)
Breaking Away to Come Together (1984)
The re-awakening of My Ancestral Spirits (1987)
The Bruce Lacey Experience (2012)
Medium: 2DVD
Related Products