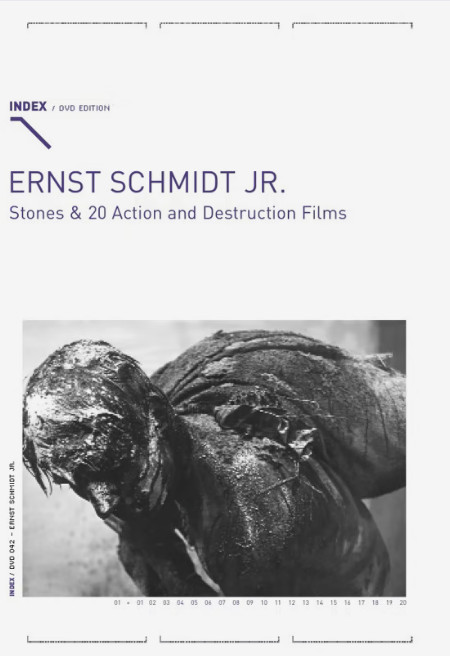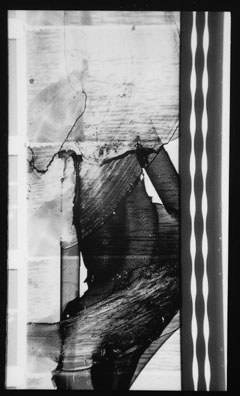 Ernst Schmidt Jr. - Stones & 20 Action and Destruction Films
Ernst Schmidt Jr. died in 1988 at the early age of 50,  leaving behind a multifarious body of work: experimental documentary films, material films, expanded cinema, abstract films, project films, conceptual films, Lettrist text films, compilation films, and a feature length dramatic film.  In 1980 Schmidt Jr. made a compilation of films entitled 20 Aktions- und Destruktionsfilme 1965-1979. This compilation is now available for the first time on DVD.
"If I had to name a single Austrian filmmaker who to this day has not received the international recognition deserved for the artistic level his work attained, I would unhesitatingly name him." (Peter Tscherkassky).
Contents:       (all films were 16 mm – titles translated into english)
– Stones, 1964, 30 min
– Yes/No, 1968, 3 min
– White 1968, 1 min
– Cheers, 1968 3 min
– Red-white-red, 1967, 1 min
– Snip, Snip, 1968, 2 min
– Film Alphabet, 1971, 1 sec
– Imperial Theatre, 1970 5 min
– Collected by Wendy, 1979, 1 min
– A Subhistory of Film, 1974, 2 min
– The Act of Thinking, 1968, 4 min
– My Funeral an Experience, 1977, 2 min
– High Noon, 1977, 4 min
– The Merry Widow, 1977, 2 min
– Gertrude Stein would have liked to have seen Chaplin in a film where he would have nothing other to do than walk on the street and then go around a corner, and then around the next corner, etc. from corner to corner, 1979, 3 min
– N, 1978, 6 min
– Art & Revolution, 1968, 2 min
– Bodybuilding, 1965/66, 9 min
– Onetwothree, 1965-68, 8 min
– Film Scraps, 1966, 10 min
– Color Film, 1967, 1 min
See also the the DVD from Ernst Schmidt Jr.: ¨Wienfilm / ViennaFilm 1896-1976¨
Medium: DVD
Related Products