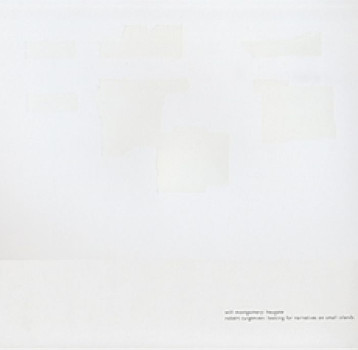 Will Montgomery an Robert Curgenven - Split LP
A spllit 12″ LP with Will Montgomery: Heygate and Robert Curgenven: Looking for narratives on small islands.
Side 1: Heygate is made from sounds sourced in and around the Heygate estate in the Elephant and Castle area of south London. The estate, finished in 1974, is a high-profile relic of Southwark Council's vigorous housing construction programme in the late 1960s and early 1970s. Now almost empty and facing demolition. Side 2: Looking for Narratives on Small Islands (2009) – Part One (17mins) mixed in London, UK (August) and Flensburg, Germany (November) from 34min live set recorded at The Cube Cinema, Bristol, UK, 12th July, 2009 incorporating "Transparence" dubplate (RF007), guitar feedback, binaural microphones, industrial fans, unprocessed field recordings from remote Australia, Germany and Japan. Part Two (3mins) recorded live at Cinema Oblo, Lausanne, Switzerland, 25 May, 2009 incorporating the same materials as Part One.

Medium: LP
Related Products