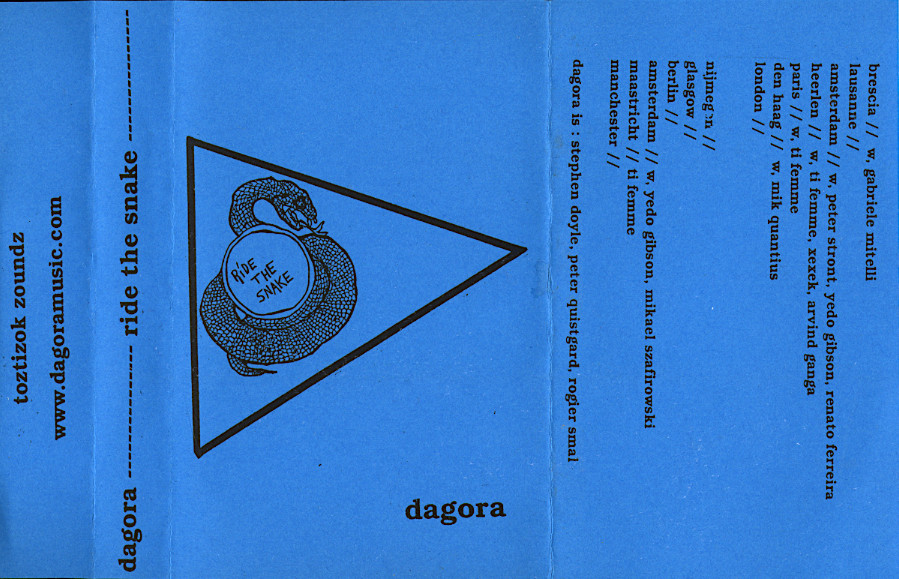 Dagora - Ride The Snake
Dagora is a local amsterdam free music and art collective with madness just a few inches away.
Two drummers and one madman with a suitcase of self made electrical goods. Varying from the quiet bells and echoed vocals of the mountain dreamers to the noisy interference of the satellites in the sky's, cymbal wash, circuit bent toys, snare drums, leads and sockets, clicks and thuds all co-exist, sometimes fighting, in this our world of sound. A Dagora live compilation tape.
Tracklist:
A1. Brescia (featuring Gabriele Mitelli)
A2. Lausanne
A3. Amsterdam (featuring Peter Stront, Renato Ferreira, Yedo Gibson)
A4. Heerlen (featuring Arvid Ganga, Helena Sanders, Ti Femme, Xexek)
A5. Paris (featuring Helena Sanders, Ti Femme)
A6. Den Haag (featuring Mik Quantius)
A7. London
B1. Nijmegen
B2. Glasgow
B3. Berlin
B4. Amsterdam (featuring Mikael Szafirowski, Yedo Gibson)
B5. Maastricht (featuring Helena Sanders, Ti Femme)
B6. Manchester
Credits:
Performers: Peter Quistgard, Rogier Smal, Stephen Doyle
Notes:
The cover of this release was issued in red, blue and purple and limited to 110 copies
Medium: Music Cassette
Related Products