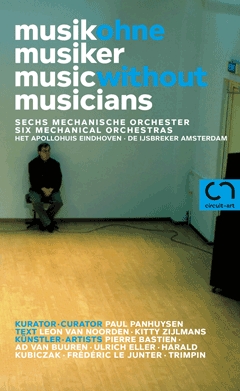 Paul Panhuysen - Music Without Musicians / Musik Ohne Musiker
Paul Panhuysen curated a program of mechanical orchestras at De IJsbreker in Amsterdam on invitation of Jan Wolff in the summer of 1997. This book plus CD documents the mechanical orchestras created by the six artists Trimpin, Frédéric Le Junter, Ulrich Eller, Ad van Buuren, Pierre Bastien and Harald Kubiczak. Essays by Kitty Zijlmans (Leiden University) and Leon van Noorden (Gent University) examine the absence of musicians in the process of making music.  In addition, it includes texts by the six artists about music and sound in their work.
Published in 2016, paperback, Format 125 x200 mm, 124 pages plus CD.
The publisher being of German origin, the text is completely bilingual in English/German.
Medium: Book + CD
Related Products