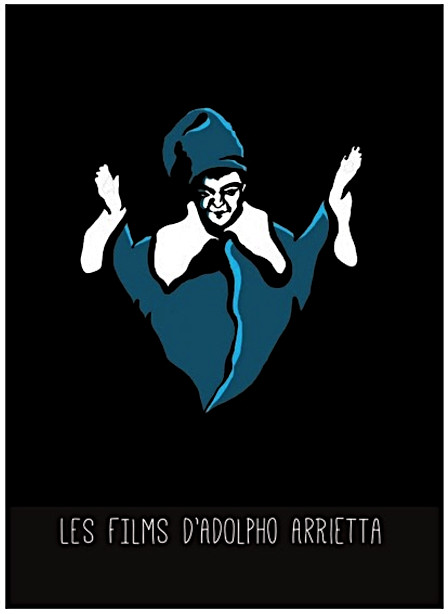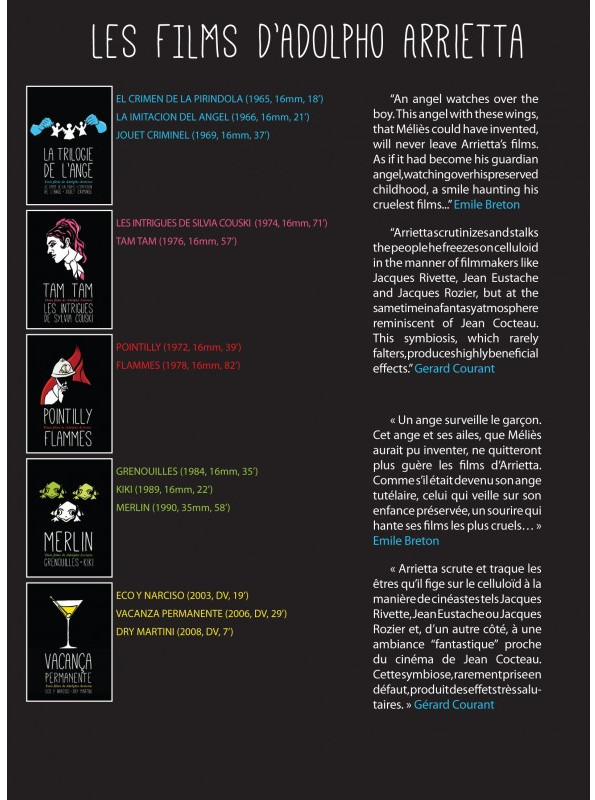 d'Adolpho Arrietta - Les Films d'Adolpho Arrietta
From his early short films shot in Madrid in the 1960s, his first features made in Paris in the 1970s, his critically acclaimed Flammes (re-released in Paris this Spring by Capricci), his later, more ambitious yet rarely seen features of the 1980s Grenouilles and Merlin, to his recent personal essays shot in digital, the work of Adolpho Arrietta spans a multitude of styles and themes, yet offers a singular grace, a poetic sensibility and a refreshingly keen eye for composition, rhythm and character study.
The boxset includes five DVDs with booklets, critical texts and new introductions to the films, with subtitles in English, French and Spanish. All of Arrietta's thirteen completed films from 1965 to 2008 are included in their most recent director's cut, and remastered from the best available sources.
"An angel watches over the boy. This angel with these wings, that Méliès could have invented, will never leave Arrietta's films. As if it had become his guardian angel, watching over his preserved childhood, a smile haunting his cruelest films…"
-Emile Breton
"Arrietta scrutinizes and stalks the people he freezes on celluloid in the manner of filmmakers like Jacques Rivette, Jean Eustache and Jacques Rozier, but at the same time in a fantasy atmosphere reminiscent of Jean Cocteau. This symbiosis, which rarely falters, produces highly beneficial effects."
-Gerard Courant
The films:
POINTILLY / FLAMMES
TAM TAM / LES INTRIGUES DE SYLVIA COUSKI
VACANZA PERMANENTE / ECO Y NARCISSO / DRY MARTINI
MERLIN / GRENOUILLES / KIKI
TRILOGIA DEL ANGEL
Label:
Re:voir
/ barcode: 3493551101055
Medium: DVD Box
Related Products