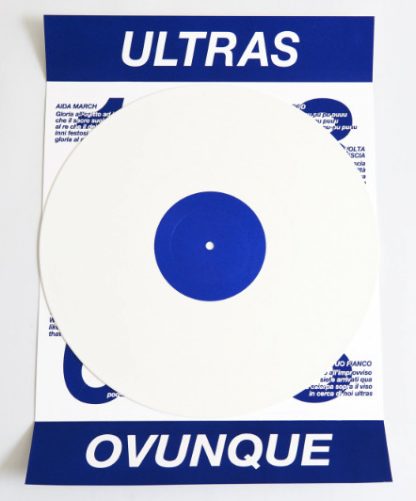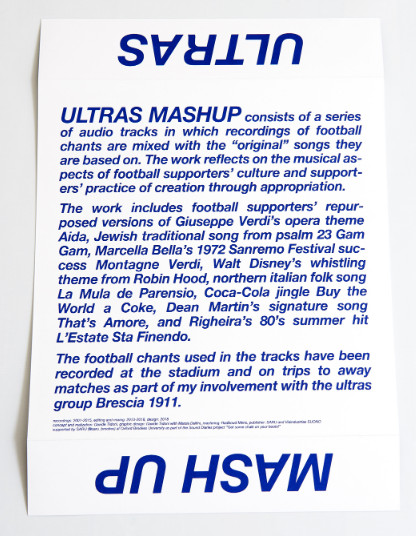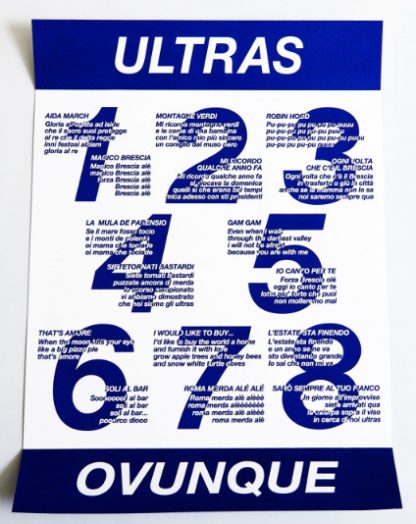 Davide Tidoni - Ultras Mashup
Sound artist Davide Tidoni has been researching football supporter subculture since early 2000 and chose the scene in Brescia (Italy), the town where he himself grew up: more specifically the ultras group Brescia 1911. The overall research concerns the nexus of public space, social performance and surveillance in contemporary Italian football.
Relations between sound production and space construction are investigated especially in the light of dynamics of social control adopted in football grounds in the last years.
Tidoni's research wants to trace mechanisms of social interaction and aesthetic creation and contribute to a better understanding of sound's function in group formation and collective identity, as well as how sound performance and social repertoire evolve in relation to public security measures, crowd regulation and space control.
This record, that was published as companion to the book "The Sound Of Normalization" by Tidoni, may be nice for DJs with an interest in football atmospheres! Audio recordings of football chants are mixed with the "original" songs they are based on. The work reflects on the musical aspects of football supporters' culture and supporters' practice of creation through appropriation.
The work includes football supporters' repurposed versions of Giuseppe Verdi's opera theme Aida, a Jewish traditional song from psalm 23 Gam Gam, Marcella Bella's 1972 Sanremo Festival success Montagne Verdi, Walt Disney's whistling theme from Robin Hood, northern italian folk song La Mula de Parensio, Coca-Cola jingle Buy the World a Coke, Dean Martin's signature song That's Amore, and Righeira's 80's summer hit L'Estate Sta Finendo.
All recordings and mix: Davide Tidoni
design: Marzia Dalfini & Davide Tidoni
Silkscreened cover by l'Appât
White vinyl 12″ plus a .wav download link
Label:
SARU
/ viaindustriae sono
Medium: LP + download
Related Products