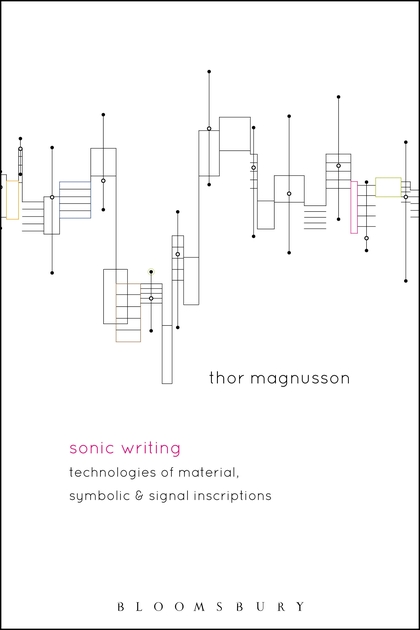 Thor Magnusson - Sonic Writing – Technologies of Material, Symbolic & Signal Inscriptions
Sonic Writing explores how contemporary music technologies trace their ancestry to previous forms of instruments and media. Studying the domains of instrument design, musical notation, and sound recording under the rubrics of material, symbolic, and signal inscriptions of sound, the book describes how these historical techniques of sonic writing are implemented in new digital music technologies. With a scope ranging from ancient Greek music theory, medieval notation, early modern scientific instrumentation to contemporary multimedia and artificial intelligence, it provides a theoretical grounding for further study and development of technologies of musical expression. The book draws a bespoke affinity and similarity between current musical practices and those from before the advent of notation and recording, stressing the importance of instrument design in the study of new music and projecting how new computational technologies, including machine learning, will transform our musical practices.
With this study of contemporary musical media, where interactivity, artificial intelligence, and networked devices disclose new possibilities for musical expression, Thor Magnusson provides a conceptual framework for the creation and analysis of this new musical work. He argues that contemporary sonic writing becomes a new form of material and symbolic design–one that is bound to be ephemeral, a system of fluid objects where technologies are continually redesigned in a fast cycle of innovation.
Thor Magnusson's background in philosophy and electronic music informs research on the impact digital technologies have on musical practice; explored through software development, composition and performance. Co-founder of ixi audio (www.ixi-audio.net), he lectures in music at the University of Sussex, UK, where he leads the Experimental Music Technologies Lab.
Table of contents
List of Figures
Preface
Acknowledgements
0 – Introduction
I – Material Inscriptions
1. Instrumentality
2. New Instruments
3. Epistemic Tools
4. Digital Organology
II – Symbolic Inscriptions
5. Writing Music
6. Printing Music
7. New Languages
8. Machine Notation
III – Signal Inscriptions
9. Inscribing Sound
10. Recording
11. Analysing
12. Machine Listening
IV – Digital Writing
13. Transductions
14. New Notations
15. Machine Writing
16. Music in Multimedia
V – Conclusion
17. A Future of Music Tech
18. Transformation of Tradition
19. New Education
Bibliography
Index
Paperback, published in 2019, 304 pages and 30 black&white illustrations.
"This is a fascinating and giddy sprint through the long history of our digital present. Magnusson tells the history of 20th- and 21st-century music through the lens of inscription–capaciously understood to encompass musical instruments, controllers, interfaces, notation, and recording. By turns breathlessly ambitious in his broad historical sweep and revelatory in his detailed attention to individual technologies, Magnusson gives his readers a host of critical tools to think through the challenges and affordances of our musical tools." – Emily I. Dolan, Gardner Cowles Associate Professor of Music, Harvard University, USA.
Medium: Book
Related Products