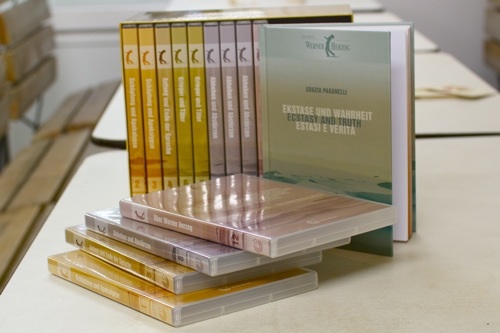 Werner Herzog - The Big Box
On the occasion of Herzog's 70th birthday, which was celebrated @ WORM three days long with film, food and festivities, we decided to offer this impressive collection of all Herzog's documentaries and short films (up to 2010). Remastered, with subtitles in 10 different languages (German, English, French, Spanish, Portuguese, Russian, Chinese, Arabic, Italian, Turkish). All this on 13 DVDs.
Special extras are:
– I Am My Films, part 2, 30 years later
Christian Weisenborn in discussion with Werner Herzog about his documentary work of the past 30 years, DVD 97 min.
– 4 films about Werner Herzog
Including part 1 of "I am my films" (1976-78) by Christian Weisenborn and a portrait by Peter Buchka
– The book ECSTASY AND TRUTH, written by Grazia Paganelli on Werner Herzog and his documentary work, in German, English, and Italian.
This is the complete list: 1. Herakles (1962)
2. Fata Morgana (1970)
3. La Soufrière (1977)
4. Lessons of Darkness (1992)
5. Wodaabe - Herdsmen of the Sun (1989)
6. Bells from the Deep (1993)
7. Last Words (1967)
8. Land of Silence and Darkness (1971)
9. How Much Wood Would a Woodchuck Chuck (1976)
10. Huie´s Sermon (1980)
11. God´s Angry Man (1980)
12. Precautions against Fanatics (1969)
13. The unprecedented Defence of the Fortress Deutschkreutz (1966)
14. Echoes from a Sombre Empire (1990)
15. Ballade of the little Soldier (1984)
16. Little Dieter needs to fly (1973)
17. The great Ecstasy of Woodcarver Steiner (1973)
18. Gasherbrum - The dark glow of the mountain (1984)
19. Wings of Hope (1999)
20. Gesualdo (1995)
21. Wheel of Time (2003)
22. The White Diamond (2004)
23. The Wild Blue Yonder (2005)
24. I am my films - part 1 (1976-78)
25. I am my films - part 2 (2010)
26. Bis ans Ende und dann noch weiter, Portrait by Peter Buchka
27. Werner Herzog, Filmmaker
Medium: DVD Box + Book
Related Products