Out of stock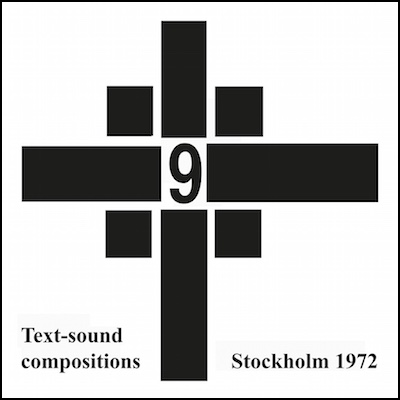 Various Artists - Text-Sound Compositions Vol. 9 (Stockholm 1972)
Fylkingen Records in Sweden never released these works until now, more than 40 years later! From 1968-70, they presented a series of 7 LPs in collaboration with the Swedish Radio, all of which contained material performed during the yearly festivals for Text-Sound Composition that Fylkingen arranged during those three years. A new series of records for 1971-74 was planned but, due to economic reasons at that time, they were never made. Fylkingen now finally continues the series with vol. 8-11 – one record for each year´s festival..
Contents:
Christer Grewin (SW) – Dialogi (7.11)  A beautiful, atmospheric piece using cut-up / treated voices, collaged together, quite spacious with sparse harmonic layers of sound.
Bob Cobbing (UK) – Sha ma na (11.55)   Live recording of almost a purely vocal (plus a bit of percussion) piece, partly improvised, featuring Cobbing, Lillemor Lind and Ewa Svensson, sounding, indeed, like a shamanistic ritual.
Maud Reuterswärd & Bengt Nyquist (SW) – 16.3.68 (5.33)   A political piece about the massacre in Son My, Vietnam, on this exact date. A sober collage of looped voices, screams, filtered, delayed, panned..
Öyvind Fahlström (SW) – Den svåra resan (5.15)   Falhström (1928-1976) was one of Sweden's most well-known artists, active in visual arts, film, writing, and sound. This today sounds like a fairly traditional piece of multi-layered voices, performed live by a vocal ensemble.
Charles Amirkhanian (US) – as erson´s onal tte (3.05)   A four-channel piece of poetry narration.
Charles Amirkhanian – Sound Nutrition (3.10)   A cut-up text about nutrition from promotional announcements, which then becomes quite alien and disturbing.
Medium: LP
Related Products