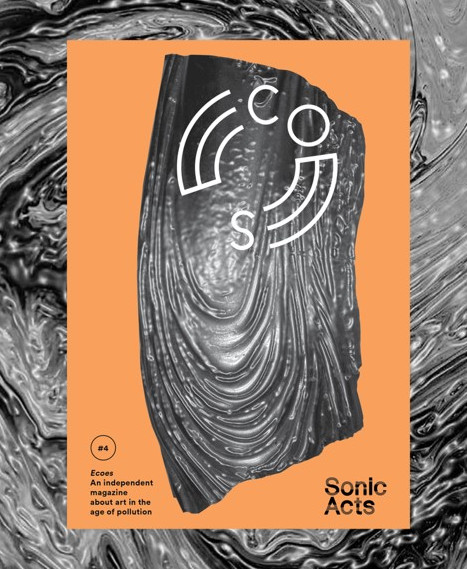 Sonic Acts - Ecoes #4
Independent magazine about art in the age of pollution.
With a 'feature well on oil' that dives deep into the 'petrocapitalist noxiousness' of our time, this issue tells the complex personal stories of artists and researchers, inspiring and transforming different perspectives of reality. The fourth edition interweaves works from Sonic Acts OVEREXPOSED residents with interviews from FieldARTS 2022 participants and other creators and thinkers from our Underexposed mentorship scheme, all considering the composite ways toxicity can be buried, leaked, and unearthed across scales of daily life and deep time. From personal experiences of cancer treatment, caregiving and its aftereffects, to building relations with mounds, piles and heaps all around us; from the long-lasting impact of the 2002 MV Prestige oil spill off the coast of Spain, to ecological colonialism covering destroyed Palestinian villages with Aleppo pine; from misused restoration of the seminal oil pool sculpture by Noriyuki Haraguchi, to poetry by Russian queer feminist poet Galina Rymbu that 'historicises the chokehold on oil, gas, and grain supply, now crystallised in the invasion of Ukraine'. This issue of Ecoes offers a powerful immersion into art during times of pain, toxicity, illness and crude capitalism. Featuring: Anguille Vannamei — Noam Youngrak Son, Sarah Fitterer, Erik Peters, Fred Carter, Inas Halabi, Jeff Diamanti, Luke Fischbeck (lucky dragons), Marit Mihklepp, Miriam Matthiessen, Samia Henni, Sarah Rara (lucky dragons), Shirin Sabahi.
CONTENTS
INTRO
Mirna Belina (Editor in Chief)
OIL'S DEPTH OF FIELD(S)
Jeff Diamanti
OIL, GAS, DUST: FROM THE SAHARA TO EUROPE
Samia Henni
TIDAL MEMORY: SIX FRAGMENTS OF AN OIL SPILL
Miriam Matthiessen
'CRUDE OIL SHAPING FORMS OF WRITING': GALIA RYMBU'S LIFE IN SPACE
Fred Carter
BODY, MATTER AND MIND
Shirin Sabahi
MARIT MIHKLEPP: IF THERE IS NOWHERE TO HOLD ON TO, ROOT INTO YOURSELF AND GROW FROM THERE
Interview by Victoria Douka-Doukopoulou
TRACING THE INVISIBLE: SLOW VIOLENCE; FÜKEIRON, AND THE RIGHT TO RETURN
Ines Halabi
SENTENCES ABOUT RIVERS AND CANCERS
lucky dragons – Luke Fischbeck
CANCER IS A WEATHER SYSTEM
lucky dragons – Sarah Rara
ANGUILLE VANNAMEL: FERTILE WATERS
Interview by Sonic Acts
ERIK PETERS: COLLABORATIVE WORLDBUILDING
Interview by Sonic Acts
Cover image: Gilsonite rock on public display in the Utah Field House of Natural History, USA.
Medium: Magazine
Related Products