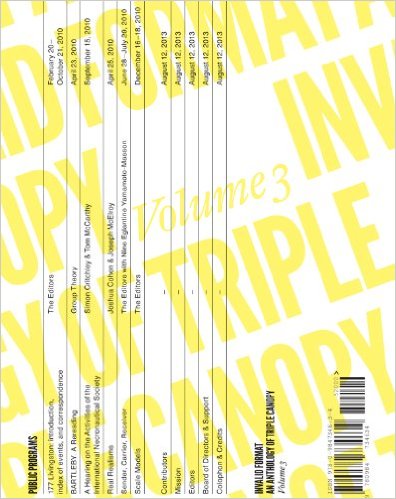 Various Authors - Invalid Format: An Anthology Of Triple Canopy
An archive of the widespread activities of Triple Canopy, the New York–based magazine and publisher based in New York. Since 2007, Triple Canopy has advanced a model for publication that encompasses digital works of art and literature, public conversations, exhibitions, and books. This model hinges on the development of publishing systems that incorporate networked forms of production and circulation. Working closely with artists, writers, technologists, and designers, Triple Canopy resists the atomization of culture and, through sustained inquiry and creative research, strives to enrich the public sphere.
The book translates into print work that originally appeared in other forms. The third volume of Invalid Format includes artist projects and literary work published online in the third and fourth years of Triple Canopy's existence. It includes contributions by Michael Almereyda, Mel Bochner, Paul Chan, Simon Critchley, Ellie Ga, Daniel Gordon, Vivian Gornick, Joseph McElroy, Matt Mullican, Ken Okiishi, and Lynne Tillman, among others. Some examples:
Mel Bochner: The Medium and the Tedium (for translucence, against transparency: an account of conceptual art and its mediums)
Hannah Whitaker: A Note on Black Box (How photography is being reframed online)
Eve Sussman & Rufus Corporation: WHITEONWHITE (Six episodes of an algorithmic noir)
Published January 2014, paperback, 288 p, illustrations in colour & b/w.
Medium: Book
Related Products