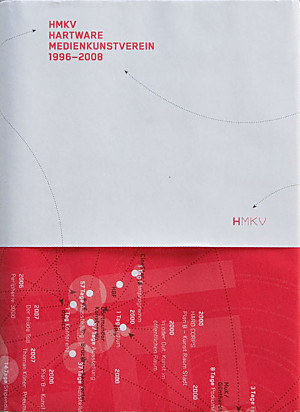 Various Authors - HMKV Hartware MedienKunstVerein 1996-2008
The Hartware MedienKunstVerein (HMKV) in Dortmund is a platform for the production, presentation and mediation of contemporary and experimental art. Operating from a unique position in both North Rhine-Westphalia and Germany, the HMKV has engaged in numerous international collaborations, allowing it to develop a world-wide open network that continually feeds its variegated programme of exhibitions and events.
Since its inception in 1996 the HMKV has staged numerous exhibitions as well as film, video, music and performance programmes, workshops, lectures and conferences in various cities in Germany and abroad.  Over the past 15 years the HMKV has staged 40 exhibitions, among which such internationally relevant projects as Zones of Desire (Dortmunder U, 1998), games – Computer Games by Artists (2003) and History Will Repeat Itself (2007).
This book documents the history of this unique institution in both German and English.
Publisher:
HMKV
/ ISBN 978-3-939-825-90-6
Medium: Book
Related Products