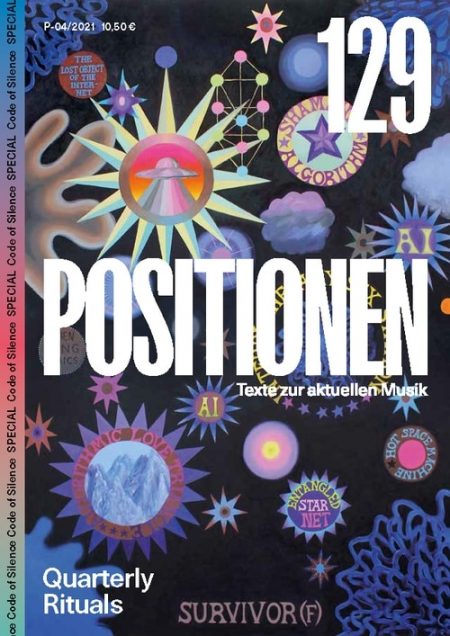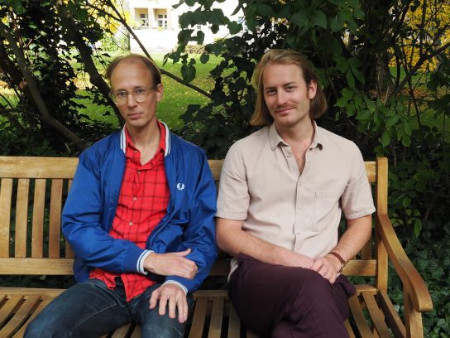 Positionen - Texte zur Aktuellen Musik - Nr. 129 (November 2021)
In German. Herausgeber: Andreas Engström & Bastian Zimmermann (see picture below). Thema: Quartely Rituals. Suzanne Treister artwork on the cover and inside!
Es gibt eine große Sehnsucht – in der Gesellschaft, in der Kunst und auch im Bereich der zeitgenössischen Musik – wegzukommen von einer verwalteten Existenz, die sich stetig um die Selbstoptimierung und Reflektion bemüht. Und es verstehen immer mehr Protagonist*innen, dass dies auch mit einer Kommodifizierung der Kunst selbst einhergeht. Was ist die Neue Musik? Wer steckt den Rahmen ab? Sind es immer die Kompositionsaufträge, die das Qualitäts-Siegel versprechen? Was wäre mit einem »Bio-Siegel«? Was ist die andere Seite der Produktion und künstlerischen Inhalte, die anstrebenswert wäre? Neue, regelmäßige Rituale, wie wir es als Heft eins sind? Es gibt verschiedene Strategien zur Kreierung eines neuen Musiktempels.
Christoph Haffter – Strategischer Obskurantismus
Haffter diskutiert zur Eröffnung kritisch den Einlass von spirituellen Ritualen in der Gegenwartskunst und -musik.
Thomas Groetz – Wohin soll ich mich wenden…
Groetz schaut in die musikalische Vergangenheit und fragt nach einer Re-Spiritualisierung musikalischen Schaffens heute.
Dagmara Genda – Die Falte spielen
Genda nimmt sich ein Format des rituellen Texts vor – die Partitur und ihre produktive Faltung durch den Künstler William Engelen, mit Parallelbetrachtungen zu der Künstlerin Dorothea Rockburne und einem Film von Mauricio Kagel.
Colin Lang – Vergrabene Maßnahmen
Lang nimmt sich dem wohl zeitgenössischsten Musiktempel dieser Tage an – der Installation Bergama Stereo von Cevdet Erek, die in Referenz auf den fast 2000 Jahre alten Pergamonaltar entstanden ist. Eine Lehrstunde in musealer Dekolonisierung und Re-Ritualisierung.
Andra Amber Nikolayi Von Sâmbăta Sonoră zu Semi Silent
Einem spannenden Einblick in die Musikszene in Bukarest seit den 2000er-Jahren, der Erschaffung von Orten und Szenen insbesondere am Beispiel des Festivals Sâmbăta Sonoră.
SPECIAL: CODE OF SILENCE
Während der Pandemie feierte das Berliner Splitter Orchester sein zehnjähriges Bestehen mit der dreiteiligen Reihe Code of Silence. Friederike Kenneweg, Irene Lehmann und Anneliese Ostertag waren dabei und haben darauf textlich reagiert. Eine Untersuchung nach neue Formen für Kritik:
Friederike Kenneweg Zeitabdrücke
Anneliese Ostertag Die Performativität des Zuhörens / Der Kodex der Stille
Irene Lehmann Dem Zuhören zusehen
POSITIONEN
Kirsten Reese; Memories in Music; Wiener Festwochen; Sara Glojnarić; We Can Be Heroes; Mühlenbecker Klanglandschaften; sonotopia; Heroines of Sound; Tino Sehgal; Unsafe + Sounds; Dara String Festival; Labor Sonor: Translating Spaces; Sonambiente Berlin TXL; Aggregate Festival; Stewart Copeland & Jonathan Moore; KNM Contemporaries; Sarvenaz Safari; Ludified + Musik als Spiel – Spiel als Musik; Inexhaustible Editions; Mara Winter
Medium: Magazine
Related Products