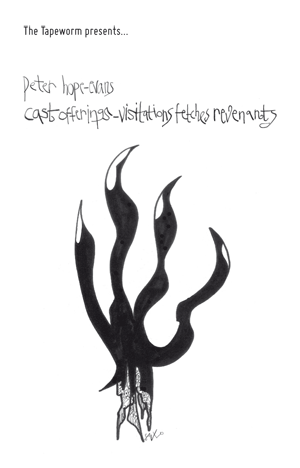 Peter Hope-Evans - Cast Offerings – Visitations fetches Revenants
"Cut from the same cloth as Daniel Johnston, these songs feature Hope-Evans alone with a microphone, a guitar and a variety of instrumental miscellanea. Deconstructing classic songs into his own little worlds, his delightfully un-tuneful singing voice is both annoying and a source of strange attraction. I cannot decide whether I like this or not but it certainly sticks out as either a work of genius or a bit of a joke. Or both." (Brainwashed)
A1: deportment (with apports)
A2: a rag though naked may be…
A3: clipp'd and collaps'd (cupid's wings)
A4: my journey (is a hallucination)
A5: the falling step
A6: ancient flower child singing
A7: a harp a skip a jump (blue angles)
B1: this shadow turn this shadow breath
B2: a man though naked may be in rags
B3: in absentia oder in effigie
B4: i expect no succour from benevolent powers
B5: what charm? what lip? : charmolypi
Peter Hope-Evans: mouth organs/organs of the mouth/jew's harps/trinklets/reception bell. Collaborator: Mick Mahoney. Guitar: Baby Taylor. Recorded aboard Mick's canal boat "Cornwall", Grand Union Canal at Cowley Peachey on Tuesday afternoon, 2nd November 2010.
Illustration and calligraphy – Savage Pencil
Peter Hope-Evans was a member of Medicine Head, a British 70s blues band championed by John Peel and signed to his legendary Dandelion label. A later project of his was Pestrepeller – here's their CD.
Medium: Music Cassette
Related Products