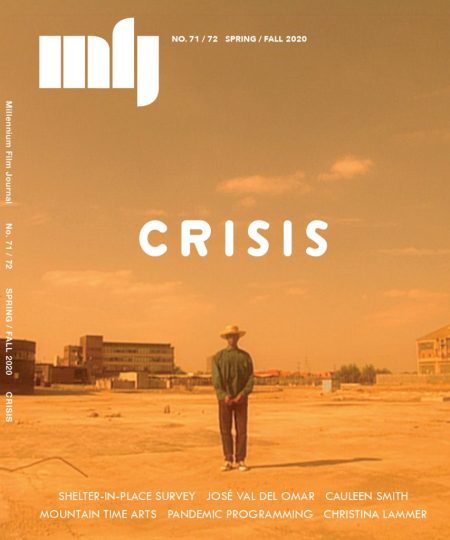 Millennium film Journal - Issue 71/72 (spring/fall 2020)
Issue 71 was scheduled for publication in April 2020, when the COVID-19 crisis was raging around the world. The Editors decided to publish it in fall 2020 as part of a double-size issue: 184 pages of knowledge and inspiration for film lovers!
They asked artists, writers, curators, and viewers how they managed their personal and creative lives during the coronavirus Shelter-in-Place. Their answers came in texts, poetry, and images.
CRISIS is not only about pandemics though. This double issue reflects on the important turning points of these unprecedented times. It includes discussions of films and video works that engage the systemic racism crisis pervading American society and elsewhere, and the climate crisis that is already upon us with devastating consequences.
in this issue:
REVIEWS
Feelings, or Documenting Neighbors in New York (The Giverny Document) – Greg de Cuir Jr.
Can and must we make film now? (moving images, Emergency and Production Porn from Virtual Oberhausen) – Miriam de Rosa

Easter Morning from home: Bruce Conner – Johanna Gosse

Ben Rivers' Now, at Last!

Chiara Ambrosio's La Frequenza Fantasma

John Akomfrah's The Last Angel of History / Otolith Group's Hydra Decapita

Marianna Simnett's The Bird Game

Mother I am Suffocating, This is my last film about you by Lemohang Jeremiah Moses

Kzrystof Wodiczko's Monument

Community video archives of Oaxaca

Christian Marclay's 48 War Movies at Paula Cooper Gallery, NY

Peggy Ahwesh's Cleave

a

nd more.
ARTICLES
Inhabiting Impossibility: On Not Curating During the Pandemic – by Kim Knowles

Small-File Movies: Saving the Planet, One Pixel at a Time – by Laura U. Marks

To Teach Without Touch: Reflections on Distance Teaching – Victoria Duckett, Liz Baulch

Digital Pandemic: Programming and Accessing ARtists'Film during the Lockdown – by Enrico Camporesi

On Jonas Mekas – by Amy Herzog

and more.
ARTIST PAGES
COVID Manifesto – by Cauleen Smith

The Camera is the Message – by Christina Lammer
IN MEMORIAM
Bruce Baillie, Terry Cannon, Luther Price, Carolee Schneemann, Woody Vasulka, Peter Wollen
BOOKS
fthry
Medium: Magazine
Related Products