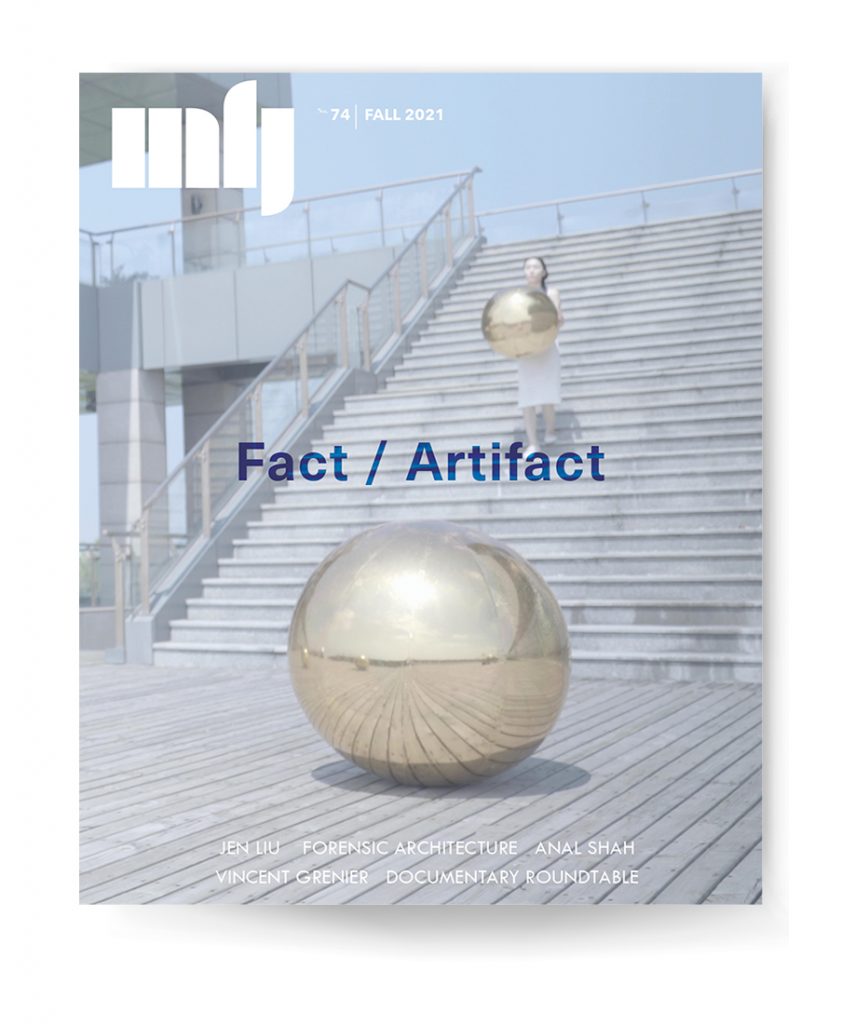 Millennium Film Journal - Issue 74 (Fall 2021)
In archaeology, an artifact is an object produced by human hands that emerges during excavation field work and may reveal aspects of past societies: facts about extinct ways of life. In computer science, artifact refers to data that obscures or misleads rather than reveals. This second definition also serves to qualify the first. Is archaeology not itself hampered by external factors? Is the pursuit of past realities ever an objective or uncomplicated practice? Who goes about this work, with what methods and instruments? Throughout this issue of Millennium Film Journal, the contributors apply this line of questioning to media artifacts.
MFJ 74 is a substantial, broad-ranging issue, enhanced by the contributions of new editors Jonathan Ellis, Nicholas Gamso, Nicky Hamlyn and Kim Knowles. Deniz Johns analyses the work of the UK-based research collective Forensic Architecture; Toby Lee, Laliv Melamed, Pooja Rangan, Paige Sarlin, and Benjamín Schultz-Figueroa propose to define documentary filmmaking not simply as evidentiary but as operational in a roundtable feature, Documentary (adj.); David Fresko reviews Annette Michelson's collected writings on Soviet Cinema; Madison Brookshire's article on Anal Shah's suggests that some contemporary nonfiction films stimulate receptive responses by eliding subject matter altogether; Vera Dika writes on Dore O.'s experimental films; Clint Enns interviews Klarissa Hahn about her filmmaking practices. Other artists' work include Artist Pages by Vincent Grenier, and MFJ editor Rachel Stevens' Studio Visit with Jen Liu.
TABLE OF CONTENTS
Introduction
Grahame Weinbren
REVIEWS
Lost Landscapes/Desolate Dreams: Dore O. 24-hour Marathon, Spectacle Theater, February 20, 2021, New York/Online (Notes and Citations)
Vera Dika
When I heard His Cunning Laugh: Sabrina Zhao's The Good Woman of Sichuan
Nicholas Gamso
Jessica Sarah Rinland, Sol de Campinas (Notes and Citations)
Andrew Northrop
Ryoji Ikeda at The Strand, London
Simon Payne
Christoph Janetzko, The Mechanics (Hyperlink)
Ingo Petzke
Occhio: Human Existence in Tangible Form, Portal to a Dual Chronotope (Notes and Citations)
Ileana Nicoleta Sălcudean
Fern Silva's Rock Bottom Riser
Joel Schlemowitz
BOOK REVIEWS
Annette Michelson, On the Wings of Hypothesis: Collected Writings on Soviet Cinema
David Fresko
Jonathan Walley, Cinema Expanded: Avant-Garde Film in the Age of Intermedia
Christian Whitworth
ARTICLES
Anal Shah: Ethics, Imagination, and the Museum of Memories (Notes and Citations)
Madison Brookshire
Forensic Architecture: The whole truth? (Notes and Citations)
Deniz Johns
ARTIST PAGES / STUDIO VISIT
World in Focus
Vincent Grenier
Studio Visit with Jen Liu
Rachel Stevens
CONVERSATIONS
MicroCinema Office for Home Use: An Interview with Karissa Hahn (Notes and Citations)
Clint Enns
ROUND TABLE
Documentary (adj.): Keywords and Provocations
Toby Lee, Laliv Melamed, Pooja Rangan, Paige Sarlin, and Benjamín Schultz-Figueroa
IN MEMORIAM
Gene Youngblood (1942 — 2021)
Bryan Konefsky
Books Received
Medium: Magazine
Related Products