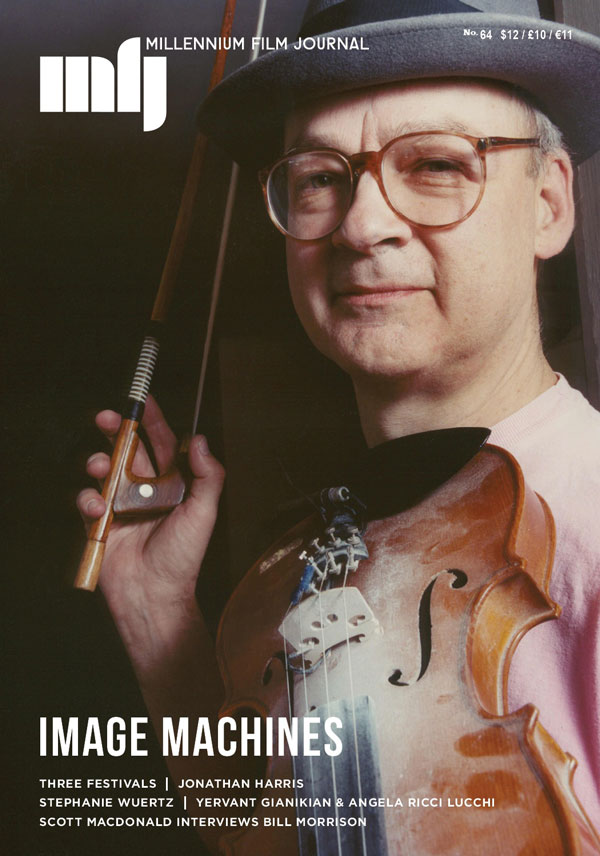 Millennium Film Journal - Issue 64 – Fall 2016
The Oldest Journal of Avant-Garde Film and Media Art on Planet Earth, is how they describe themselves.
Currently edited by Grahame Weinbren, Kenneth White, Josh Guilford, and occasional guest editors, the Millennium Film Journal has been published more or less biannually since 1978 by the Millennium Film Workshop, former director Howard Guttenplan, current director Paul Echeverria. Ever since, MFJ have documented the multiple transformations of the cinematic in the hands of artists, giving a voice to a community that tended toward marginality. Their idealist – if aggressively naive – position has always been that artworks and products are separate and distinct species, even if some works are both.
Issue 64 features:
Reviews
Ekrem Serdar on the 54th Ann Arbor Film Festival
Rachel Stevens on Omer Fast
Matt Turner: Between Ethics and Aesthetics: Frames of Representation
Rachel Valinsky on the Oberhausen Film Festival 2016
Articles
Vara Dika: Remaking the Serpentine Dance: Film as Material/Body as Trace
Maria Engberg: Jonathan Harris's I Love Your Work
Greg de Cuir Jr & Miriam De Rosa
A treatise on the apparatus and the artistic yield of Yervant Gianikian & Angela Ricci Lucchi
Artist Pages
Nina Yuen
Color
Carlo Gabriele Tribbiaoli and Federico Lodoli, Roberto Minervini, Stephanie Wuertz, Jonathan Harris
Interviews
Scoot MacDonald – Interview wqith Bill Morrion – 6 recent films
In Memoriam
Peggy Ahwesh: Peter Hutton 1944-2016
Abigail child: Tony Conrad 1940-2016
mgzaction
Medium: Magazine
Related Products