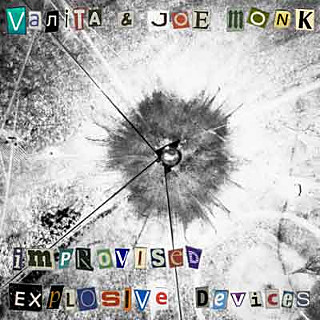 Vanita & Joe Monk - Improvised Explosive Devices
Monastery: a peaceful retreat where these two people indeed work like monks and every now and then launch the fruits of their efforts into the wild world. It may be literature, music, drawings, but essentially it's always about freedom. This album collects their recent projects as free improvising musicians and composers/project leaders. A lot of duo recordings by themselves (vocals. percussion, guitar, reed instruments, keyboards) plus conducted improvisation sessions with other musicians: Pierre Verbeek, Miriam Siebenstaedt, Henk van Schaik, Mariette Kleisen, Ruslan Amirinsky, Mira Ursic, Peter Sterk and Victor Snijtsheuvel.
These monks are thinkers as much as doers – the booklet explains all about their concepts behind the collection, the listener who takes some time to figure them out, understands a lot more about their way of working. But just hiting the button and playing the whole sequence is just as rewarding.
Medium: CD
Related Products