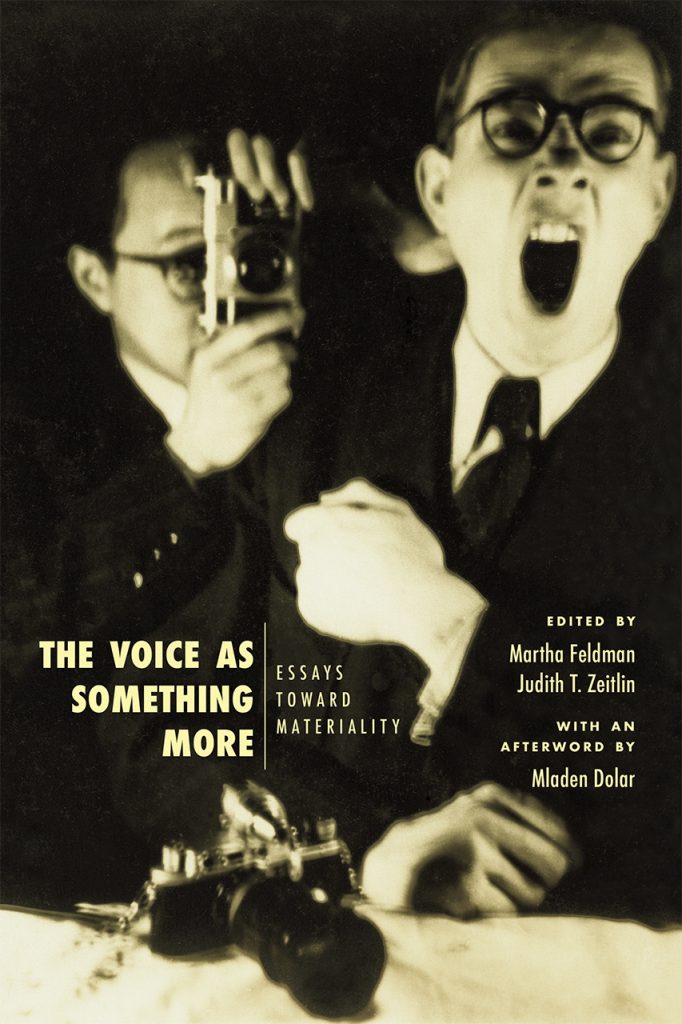 Martha Feldman and Judith T. Zeitlin - The Voice as Something More – Essays toward Materiality
In the contemporary world, voices are caught up in fundamentally different realms of discourse, practice, and culture: between sounding and nonsounding, material and nonmaterial, literal and metaphorical. In The Voice as Something More, Martha Feldman and Judith T. Zeitlin tackle these paradoxes with a bold and rigorous collection of essays that look at voice as both object of desire and material object.
Using Mladen Dolar's influential "A Voice and Nothing More" as a reference point, The Voice as Something More reorients Dolar's psychoanalytic analysis around the material dimensions of voices—their physicality and timbre, the fleshiness of their mechanisms, the veils that hide them, and the devices that enhance and distort them. Throughout, the essays put the body back in voice. Ending with a new essay by Dolar that offers reflections on these vocal aesthetics and paradoxes, this authoritative, multidisciplinary collection, ranging from Europe and the Americas to East Asia, from classics and music to film and literature, will serve as an essential entry point for scholars and students who are thinking toward materiality.
[…] With its impressive interdisciplinary scope, it will be an essential guide for readers new to the topic and a valuable resource for scholars who mistakenly thought there was nothing more to say about the voice." (Jacob Smith, Northwestern University)
Paperback, published in 2019, 400 pages, ill. 35 halftones, 2 line drawings, 1 table
On the cover: Jin Shisheng: "Self-Portrait in Darmstadt" (1939-1940)
Contents:
Preface / List of Illustrations / List of Musical Examples / List of Website Examples
Introduction
The Clamor of Voices
Martha Feldman and Judith T. Zeitlin
Part I: Sound-Producing Voice
1 Speech and/in Song
Steven Rings
2 From the Natural to the Instrumental: Chinese Theories of the Sounding Voice before the Modern Era
Judith T. Zeitlin
Part II: Limit Cases
3 Voice, Music, Modernism: The Case of Luigi Nono and Karlheinz Stockhausen
Marcelle Pierson
4 Screamlines: On the Anatomy and Geology of Radio
Neil Verma
Part III: Vocal Owners and Borrowed Voices
5 It's All by Someone Else
Robert Polito
6 The Artist's Impression: Ethel Waters as Mimic
Laurie Stras
7 "I Am an Essentialist": Against the Voice Itself
James Q. Davies
Part IV: Myth, Wound, and Gap
8 Is the Voice a Myth? A Rereading of Ovid
Shane Butler
9 Voice Gap Crack Break
Martha Feldman
10 The Gesamtkunstwerk and Its Discontents: The Wounded Voice in (and around) Alexander von Zemlinsky's The Dwarf
David J. Levin
11 There Is No Such Thing as the Composer's Voice
Seth Brodsky
Part V: Interlude: The Gendered Voice
12 Vowels/Consonants: The Legend of a "Gendered" (Sexual) Difference Told by Cinema
Michel Chion, translated by Zakir Paul
Part VI: Technology, Difference, and the Uncanny
13 The Prosthetic Voice in Ancient Greece
Sarah Nooter
14 The Duppy in the Machine: Voice and Technology in Jamaican Popular Music
Andrew F. Jones
15 The Actor's Absent Voice: Silent Cinema and the Archives of Kabuki in Prewar Japan
Jonathan Zwicker
16 A Voice That Is Not Mine: Terror and the Mythology of the Technological Voice
Tom Gunning
Afterword
Voices That Matter
Mladen Dolar
VXX
Medium: Book
Related Products