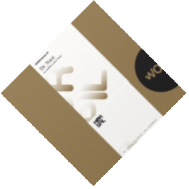 WORM Horspil - #8 – Dr. Naut
The Hørspil Series is a co-production with the Dutch VPRO Radio and their program Café Sonore. They're all produced in WORM's own studio sweatshop!
Produced, Composed and edited by Jobina Tinnemans aka Blatnova as 'an audible comic book'. Main character Dr. Naut (please call me Kosmo) travels into the outer orbits of our solar system and comes back to earth blind.
mrow : )
Medium: CD
Related Products