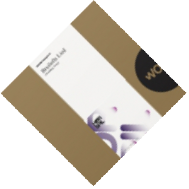 WORM Horspil - #11 – Bruilofts Lied (Wedding Song)
The Hørspil Series is a co-production with the Dutch VPRO Radio and their program Café Sonore. They're all produced in WORM's own studio sweatshop!
Alisdair McGregor, Howard Jacques & MelanieClifford constructed Bruilofts Lied from a script by Boz Temple-Morris, exploiting Rotterdam as instrument & site for interaction / their own immersion & adventure. This one's in english as you might have guessed.
mrow : )
Medium: CD
Related Products