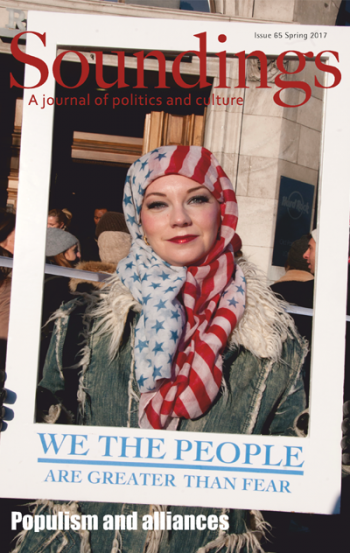 Soundings - Issue 65 (Spring 2017)
Soundings was established in 1995 by Stuart Hall, Doreen Massey and Michael Rustin. These three founding editors had all at one time or another been associated with Marxism Today, which ceased publication in 1991, and Doreen Massey and Michael Rustin had also been on the editorial board of New Left Review, until they withdrew in 1993. (Stuart Hall was the original editor of New Left Review.) The aim was to continue to work within the traditions of the new left, and to produce a journal that engaged on the ground with the political scene in a style that, while informed by theory, was not too academic.
'Willing to ask the biggest questions, but always rooted in the here and now: it's a vital link between the tradition of progressive thought…' Jeremy Gilbert
'I think of Soundings as a laboratory: one of the few places which academics, acticists, policy makers and practitioners can speak to each other as equals and forge the stories that we need to apprehend and shape the world we are living through' Rachel Thomson
Issue 65: Populism and alliances
Contents:
1. Editorial: the populist wave – Ben Little
2. An American populist in the White House – Matt Seaton
3. Conjunctural analysis and the crisis of ideas – Deborah Grayson and Ben Little
4. Alliances, fronts, parties and populism – Kevin Morgan, Marina Prentoulis, Sirio Canós and Jeremy Gilbert
5. The populist era – Paolo Gerbaudo
6. Stuart Hall and political writing – Sally Davison, David Featherstone, Michael Rustin and Bill Schwarz
7. Communism, democracy and the left – Mike Makin-Waite
8. Hegemonies are not totalities! Repoliticising poverty as a site of resistance – Victoria Lawson and Sarah Elwood
9. Memories of Doreen Massey – James Marriott, Beatrix Campbell, Hilary Cottam, Chantal Mouffe, Ares Kalandides and the Milton Keynes postgrads
10. Reviews: Elena Denaro, Todd Wolfson, Tom Slater
11. Poems: Thunder raining poison – Ali Cobby Eckermann
12. Regional inequality, regional policy and progressive regionalism – Danny MacKinnon
160 pages.
mgzaction
Medium: Magazine
Related Products