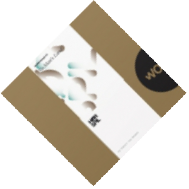 WORM Horspil - #13 – No Man's Land
The Hørspil Series is a co-production with the Dutch VPRO Radio and their program Café Sonore. They're all produced in WORM's own studio sweatshop!
No Man's Land is by Robert van Heumen and deals with the Dust Bowl period in the USA, and the Oklahoma Panhandle residents. It was an adaption from the book 'The Worst Hard Time' by Timothy Egan. Most of the sounds Van Heumen used come from the ARP 2500 and Korg MS-20 synthesizers in the WORM / CEM studio. Voice: Marilyn Ivy. Language: english, duration 40 min.
mrow : )
Medium: CD
Related Products