Out of stock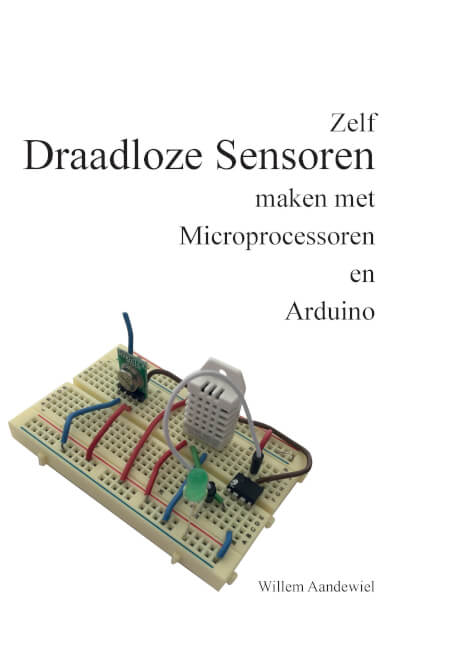 Willem Aandewiel - Zelf Draadloze Sensoren Maken met Microprocessoren en Arduino
In Dutch. Rijkelijk geïllustreerd met opstellingen, schema's en opstellingen waarvan velen in kleur. Dit is een boek waarin je leest hoe je zelf draadloze sensoren kunt maken en hoe je de signalen ervan kunt opvangen en verwerken. Dit kun je bijvoorbeeld gebruiken om lampen aan- of uit- te zetten of om data te verzamelen. Om de sensoren zo klein en energie zuinig mogelijk te maken, worden ze gebouwd met kleine microprocessoren (van Atmel).
De modules om de gegevens op te vangen en te verwerken worden met krachtigere Arduino, Pro Trinket of Teensy boardjes gemaakt.Sensoren onder meer: RF zenders/ontvangers, RF-sniffer, DHT-Sensoren, GPS-protocol, en div. sensoren voor licht, barometers, temperatuur, enz. 188 pagina's lang leesplezier.
Naast het maken van de sensoren veel uitleg hoe deze te programmeren, niet alleen met de Arduino maar ook met verschillende AVR microcontrollers. Voor reverse engineering van protocollen en om tijdkritische zaken te bestuderen, worden de screenshots van een oscilloscoop getoond zodat je inzicht krijgt in deze zaken. Hierdoor hoef je deze metingen niet na te doen en je hebt dus ook geen dure apparatuur nodig om de ontwerpen uit dit boek te kunnen begrijpen.
Paperback, gepubliceerd in 2016, 188 pagina's – full color
Willem Aandewiel kun je met recht een expert noemen in electronica, ontwikkeling en ontwerps, Linux, PHP, MySQL and Open Source producten en tools. In 1976 kocht hij al zijn eerste computer.
Publisher:
Own
/ ISBN: 9789463450270
Medium: Book
Related Products