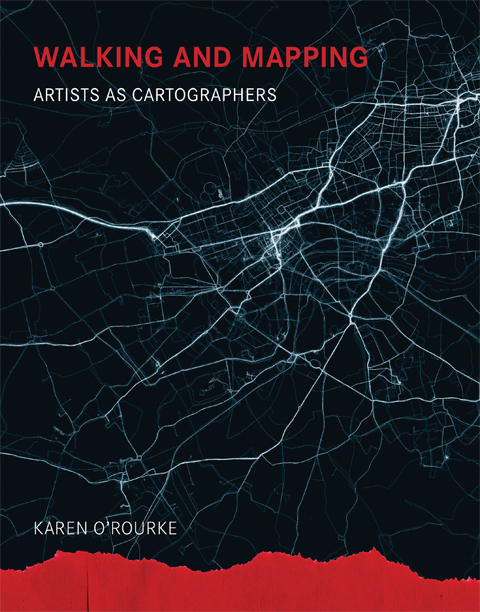 Karen O'Rourke - Walking and Mapping – Artists as Cartographers
Contemporary artists beginning with Guy Debord and Richard Long have returned again and again to the walking motif. Debord and his friends tracked the urban flows of Paris; Long trampled a path in the grass and snapped a picture of the result (A Line Made by Walking). Mapping is a way for us to locate ourselves in the world physically, culturally, or psychologically; Debord produced maps like collages that traced the "psychogeography" of Paris. Today, the convergence of global networks, online databases, and new tools for location-based mapping coincides with a resurgence of interest in walking as an art form. In Walking and Mapping, Karen O'Rourke explores a series of walking/mapping projects by contemporary artists. Some chart "emotional GPS"; some use GPS for creating "datascapes" while others use their legs to do "speculative mapping." Many work with scientists, designers, and engineers.
O'Rourke offers close readings of these works — many of which she was able to experience firsthand — and situates them in relation to landmark works from the past half-century. She shows that the infinitesimal details of each of these projects take on more significance in conjunction with others. Together, they form a new entity, a dynamic whole greater than the sum of its parts. By alternating close study of selected projects with a broader view of their place in a bigger picture, Walking and Mapping itself maps a complex phenomena.
Karen O'Rourke is a multimedia and communications artist whose work has been exhibited in Europe, the United States, and South America.
"Walking and Mapping celebrates walking, but it also challenges walking – with things, prostheses, blank placards and audio walks tripped up by maintenance works. It is full of lovely vignettes – how Janet Cardiff came to make audio-walks or how the protocols of the Autonauts of the Cosmoroute worked out in practice – but it never gets caught up in any one journey for too long, soon sending the reader spinning off into new ambulatory possibilities. A must have." (Mythogeography)
cloth hardback cover with beautiful matte-printed flap, 352 pp.
Medium: Book
Related Products