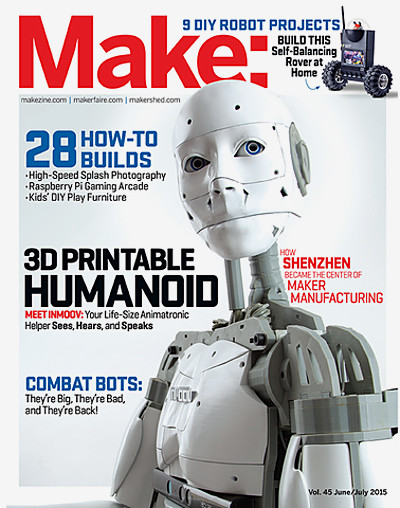 Make: - Volume 45 Robot Workshop
In Make: Volume 45, we'll take a deeper look at the latest developments in the robotics industry; the DIY humanoid robotic movement, the resurgence of battling bots, and Maker manufacturing (both in Shenzhen and domestically).
In this issue:
Inmoov: The coolest builds of the 3D printed, open-source robot from France that has become a global prototyping platform.
Combat Bots are Back! Battle bots are making their resurgence and influencing real-world robot applications. (Includes a Combat Bot design project!).
Featured Project: Universal Gripper/robotic hand.
Featured Project: DIY Self-Balancing Robot (Arduino-based build).
Gareth Branwyn navigates the Maker manufacturing scene and provides stories and insights.
Medium: Magazine
Related Products