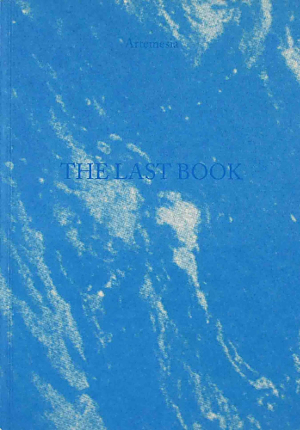 Sabine Hillen - The Last Book
Sabine Hillen was a  researcher Theory at Jan van Eyck Academy in Maastricht, The Netherlands ). It tells the story of an object – a 'book' – that is passed on from one character to the next and succeeds in bringing characters together. However, even if this 'book' achieves to influence the characters, it is also 'the last book', the only remaining medium that can ground common culture.
It started out as a poetic exploration of the notion of the Muse, but The last book gradually evolved into a filmic composite. The collaboration of Jacqueline Schoemaker and Eva Moulaert (both former researchers Design) generated a new way of writing in which images, space and time are closely related. While its makers decided to adopt the winding medium of the screenplay, The last book took the form of, indeed, a book, printed traces that can be turned into a film and play with the formats of new media. While the book still bears some anachronisms from literature, The last book refers to the zone of discomfort where readers disappear and print vanishes when popular media invade time and space.
Medium: Book
Related Products