Out of stock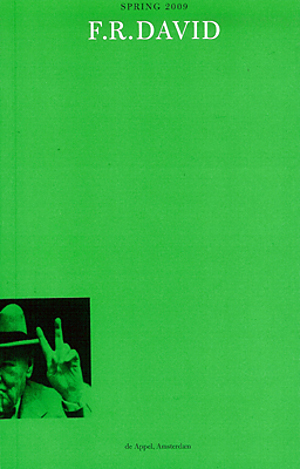 F.R. David - Spring 2009
The English publications that go by the name of F.R. DAVID focus on the status and practice of writing in contemporary art, i.e. writing as a mode that informs and feeds, supports and describes, backs
up and interprets, comments and reflects upon contemporary artistic
production. Writing as 'the core material' of a number of artists but
equally as a mode that exists parallel to or in service of the visual. F.R. DAVID's fifth issue, entitled Keep it to Yourself, knows the value of nothing but not the prices of things. With works by Agency, Jesse Ash, Pierre Bal-Blanc, Pierre Bismuth & Claire Fontaine, Italo Calvino, Donald L. Cleland, Dexter Sinister, Kodwo Eshun, Jos de Gruyter & Harald Thys, Hadley & Maxwell, Christine Kenneally, Kaisa Lassinaro, Maurice Merleau-Ponty and others.
Medium: Magazine
Related Products