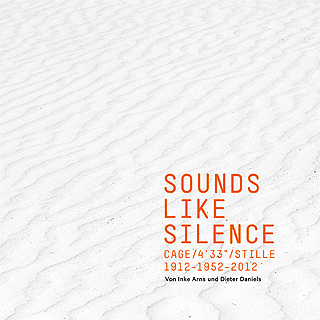 Inke Arns and Dieter Daniels - Sounds Like Silence
An "anthology of silence" spanning a large spectrum of historic and contemporary works of art. In six chapters we are led through amusing, strange, rare and illuminating recordings on and around silence. They make clear that silence never sounds like silence: while some of the pieces are indeed very quiet, others will seem rather 'loud'. Attentive listeners will be rewarded as they gradually make out the subtle yet far-ranging differences in the various sound atmospheres.
This publication accompanied the exhibition Sounds Like Silence (Hartware MedienKunstVerein Dortmund), to celebrate the 60th anniversary of John Cage's 4′ 33″ (1952). This composition in three movements without intentional sounds is the composer's best-known work today. As an 'art without work'(John Cage), it takes up and renews the impulses of the avant-gardes of the early twentieth century, notably Marcel Duchamp's readymades, which the artist himself termed 'works without art'.
It contains the radio special broadcast on August 24, 2012 in the Sound Art program of Deutschlandradio Kultur.
RRAdio
Medium: CD
Related Products