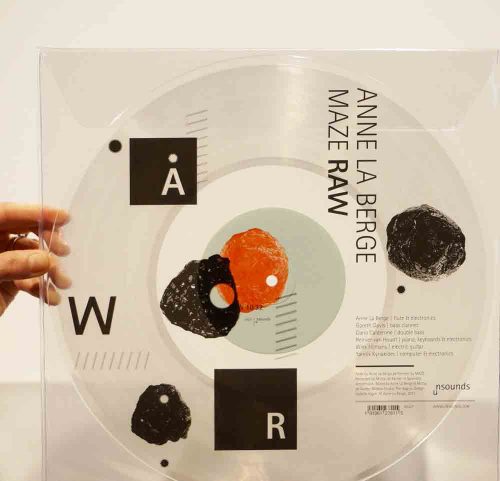 Anne La Berge - RAW – Ensemble MAZE
RAW is an interactive composition by Anne La Berge, avant-flutist, improviser and composer. She wrote an open-ended work for ensemble and electronics made up of fragmented gestures. It asks the musicians to play unfinished musical material and to collectively create a work in real time. The players follow commands and take cues in an unending whirlwind of cause and effect. Anne herself founded Ensemble MAZE, which has an impressive line-up: Dario Calderone (double bass), Wiek Hijmans (electric guitar), Yannis Kyriakides (electronics), Gareth Davis (bass clarinet), Reinier van Houdt (piano) and of course Anne La Berge (flute, electronics).
How does it work?
Anne made a Max patch on iPADS where each player influences the structure by sending a message to the patch at his or her own discretion. The Max patch in turn chooses random combinations of players to play, suggestions for the type of music to play and random prerecorded text samples to be played.
So what does this all sound like?
Of course you don't see what cues are given when, but it's all quite open, each player is given time and space to formulate their answer to them. The open-ended character often makes things sound too random, though, and can therefore make the whole feel quite directionless. The pre-recorded text samples by various voices work quite well. The recording quality could be better. It sounds like it was recorded live, and the sonority of instruments like the bass clarinet or the double bass does not come through that well.
In any case: the packaging is very nice, designed by Isabelle Vigier, and it includes a free download/streaming code.
Medium: LP
Related Products