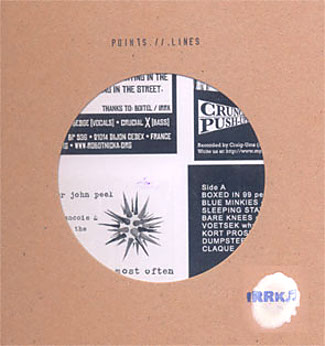 Various Artists - Points .//. Lines
This is the follow-up to VIVA LA DIVA, in a series of three 10" compilations. 15 bands in 28 minutes, featuring BOXED IN, BLUE MINKIES, SLEEPING STATES, BARE KNEES, VOETSEK, KORT PROSESS, DUMPSTER DEMPMASTER, CLAQUE, THE PACT, LIANNE HALL, DRUNK GRANNY, WET DOG, ROBOTNICKA, CRUNCH PUSH UPS, I KNOW I HAVE NO COLLAR.
All punk, some quiet, some loud. Comes with insert and band info in a handmade sleeve.
Medium: 10"
Related Products