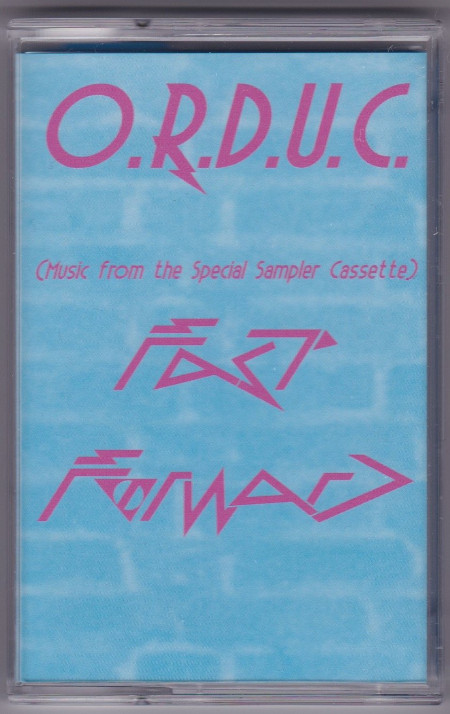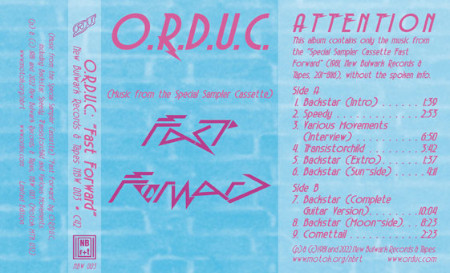 ORDUC - Fast Forward
In the spring of 1981 O.R.D.U.C. contributed a track to the Australian cassette-magazine Fast Forward. It was agreed that they would release a track from O.R.D.U.C. on one of their next magazines. This evolved into a complete cassette including info tracks with spoken texts.
In 2022 this came out: a kind of instrumental re-release from the 1981 cassette. It does not contain the spoken info from that original cassette.
Instruments used were: Korg KR-55, Ibanez ST-50, Korg MS-10 and Bontempi MemoPlay 26.
1. Intro [1:39]: "Backstar" (First part, Guitar Version).
2. Speedy [2:53]: Almost every article has one or two pictures. This track is a picture in sound, with a lot of guitars. It was released on Fast Foreward 008/009, the "Annual Report".
3. Interview [6:50]: "Various Movements"
4. Transistorchild [3:42]: Another musical picture, this one is inspired through a magazine from England, by the same name.
5. Extro [1:37]: "Backstar" (Second Part, Guitar Version).
6. Backstar (Sun-side) [4:11]: This track and the next are forward/ reverse/speed-experiments. The Sun-side is the faster edition.
7. Backstar (Complete guitar version) [10:04]
8. Backstar (Moon-side) Slower, ambient version. It brings you to the stars behind the moon.
9. Extra track "Comet Tail"
Mixed from elements of Various Movements (Interview) and Backstar (Moon-side), in December 2021, within the limitations of the 1981 equipment.
Label:
MOTOK
/ NBW 003 / MTK 003
Medium: Music Cassette
Related Products