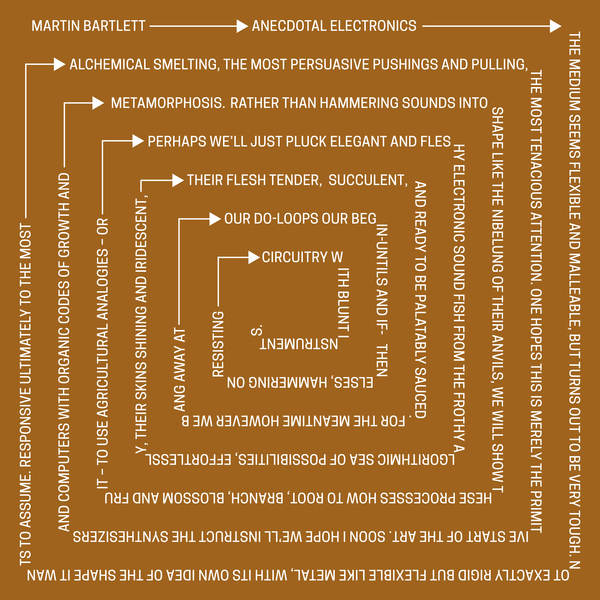 Martin Bartlett - Anecdotal Electronics: Live Experiments & Other Recordings
Arc Light Editions is Jennifer Lucy Allan's archival label, with sensors for that rarest thing – pure electronic music with pathos, warmth and humour – in their vinyl collection of unreleased work by Martin Bartlett; a British emigre based in Canada for most of his life, where he established Vancouver's first Gamelan orchestra, and cultivated a singularly beautiful, even prescient style of electronic composition that worked within, around, and against its conventions and restrictions. This album was compiled and edited by Luke Fowler.
"This LP, focussing on Bartlett's preferred live practice and "other recordings" in 15 parts is a real find, especially if you've a penchant for Laurie Spiegel, ÉLG, Todd Dockstader, or David Behrman"(Boomkat review)
Martin Bartlett should be a familiar name. As well as working with a who's who of electronic music, he was an inspiring and original thinker, composer, performer and organiser. His music is distinctive for its warmth and fleshiness, for taking joy from the incidental and anecdotal, and it remains a characterful counterpoint to much contemporary electronic music. It is his preoccupation with building aleatoric elements into electronic music that distinguishes his work, and he devised elegant and open interactions for instrumental performers and computer-controlled synthesizers. This included building his own electronic devices, and extensive work on the Buchla 400.
Born in Croydon in 1939, he was adopted as a baby, and later moved with his family to Canada. He did a short stint in the Navy and completed a music degree at the University of British Columbia, studying under Barbara Pentland, before going on to study composition at Mills College in the late 60s. In 1973 Bartlett and seven others founded the Western Front in Vancouver – a cultural cooperative, gallery and performance space that still exists today, housed in the old meeting hall of the Knights of Pythias (a mason-like fraternity). He continued with his research and teaching, and in 1982 was made professor at Simon Fraser University where he remained for the rest of his life.
His performances were often collaborative – for the Western Front's second anniversary in 1975 he devised the four-channel piece One Piece for Everyone, a composition where he prepared and cooked a cauliflower curry on a table connected to a synthesizer he had built, while reading from texts on food. When the curry was cooked, the piece ended, and everyone was fed.
Bartlett was a prolific writer, and he expresses himself in fresh, lucid, and wonderfully descriptive prose, offering clear thinking on social aspects of electronic music performance; on the barriers between the performer and the 'black box' and on possibilities for organic systems in electronic music. He also wrote accounts of his sailing trips, treatise on performance practices, and technical academic articles on the systems he built, along with the incandescent manifesto-like piece Electronic Recalcitrant, in which he hoped that electronic music would be imbued with "organic codes of growth and metamorphosis" so that he could "pluck elegant and fleshy electronic sound fish from the frothy algorithmic sea of possibilities"." (Boomkat review)
Tracklist:
A1 – Quarry (Edit)
A2 – Muscle Music (Edit)
A3 – Humors Accompaniment 2
A4 – Humors Accompaniment 3
A5 – Humors Accompaniment 4
A6 – Time Passing X (Edit)
A7 – More Lines From Chuang Tzu (Edit)
B1 – Pulse Material G Major
B2 – Three Songs Featuring Dan Shiedt + Doug Collinge
B3 – Amsterdam Variations
B4 – Buchla Bartlett Duo (Edit)
B5 – Electronic Recalcitrant
B6 – Marginalia (Edit)
B7 – Humors Song
B8 – Humors Accompaniment 5
Medium: LP
Related Products