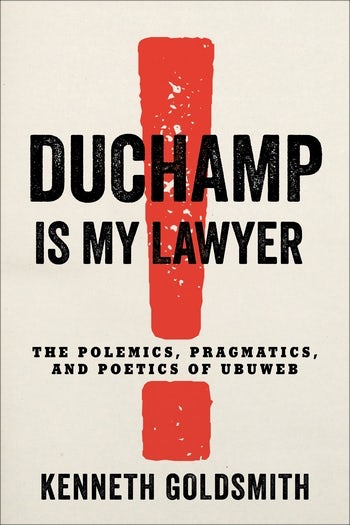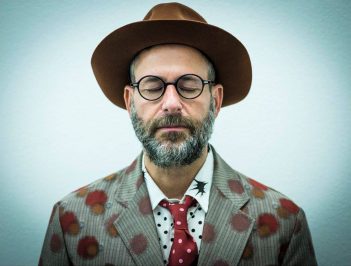 Kenneth Goldsmith - Duchamp is my Lawyer – The Polemics, Pragmatics and Poetics of UbuWeb
Kenneth Goldsmith created UbuWeb to post hard-to-find works of concrete poetry, back in 1996. What started out as a site to share works from a relatively obscure literary movement grew into an essential archive of twentieth- and twenty-first-century avant-garde and experimental literature, film, and music. Visitors around the world now have access to both obscure and canonical works, from artists such as Kara Walker, Yoko Ono, Pauline Oliveros, Samuel Beckett, Marcel Duchamp, Cecil Taylor, Glenn Ligon, William Burroughs, and Jean-Luc Godard.
In Duchamp Is My Lawyer, Goldsmith tells the history of UbuWeb, explaining the motivations behind its creation and how artistic works are archived, consumed, and distributed online. Based on his own experiences and interviews with a variety of experts, Goldsmith describes how the site navigates issues of copyright and the ways that UbuWeb challenges familiar configurations and histories of the avant-garde. The book also portrays the growth of other "shadow libraries" and includes a section on the artists whose works reflect the aims, aesthetics, and ethos of UbuWeb. Goldsmith concludes by contrasting UbuWeb's commitment to the free-culture movement and giving access to a wide range of artistic works with today's gatekeepers of algorithmic culture, such as Netflix, Amazon, and Spotify.
About the Author
Kenneth Goldsmith teaches writing at the University of Pennsylvania and is a senior editor of PennSound, an online poetry archive. His books include Uncreative Writing: Managing Language in the Digital Age (Columbia, 2011); Capital: New York, Capital of the Twentieth Century (2015); and Wasting Time on the Internet (2016).
UbuWeb is an anomaly of the internets. The irony is that it completely functions the way we envisioned the everything would, in the beginning of internets history. Kenneth Goldsmith kept UbuWeb true to the core values of the network: humanity, collectiveness, and borderless openness. In a world where data is synonymous with control and value is synonymous with price, UbuWeb functions as an oasis.
(Peter Sunde, founder of The Pirate Bay)
Paperback, published in 2020, 328 Pages
Medium: Book
Related Products