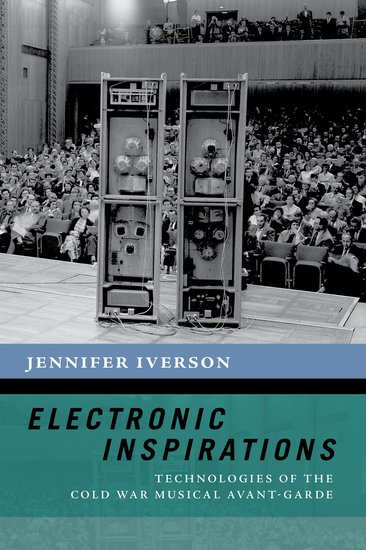 Jennifer Iverson - Electronic Inspirations – Technologies of the Cold War musical Avant-Garde
For a decimated post-war West Germany, the electronic music studio at the WDR radio in Cologne was a beacon of hope. This book traces the reclamation and repurposing of wartime machines, spaces, and discourses into the new sounds of the mid-century studio. In the 1950s, when technologies were plentiful and the need for reconstruction was great, West Germany began to rebuild its cultural prestige via aesthetic and technical advances. The studio's composers, collaborating with scientists and technicians, coaxed music from sine-tone oscillators, noise generators, band-pass filters, and magnetic tape. Together, they applied core tenets from information theory and phonetics, reclaiming military communication technologies as well as fascist propaganda broadcasting spaces. The electronic studio nurtured a revolutionary synthesis of science, technology, politics, and aesthetics. Its esoteric sounds transformed mid-century music and continue to reverberate today. Electronic music – echoing both cultural anxiety and promise – is a quintessential Cold War innovation.
Jennifer Iverson is Assistant Professor of Music, University of Chicago. She is a scholar of 20th-century music, with a special emphasis on electronic music, avant-gardism, and disability studies. Jennifer's work crosses freely between music theory, musicology, sound studies, and cultural history, drawing together analysis, archival research, and intellectual discourse.
Acknowledgements
Introduction
Chapter 1. Origins: Creating a Laboratory
Chapter 2. Kinship: Cage, Tudor, and the Timbral Utopia
Chapter 3. Collaboration: The Science and Culture of Additive Synthesis
Chapter 4. Reclaiming Technology: From Information Theory to Statistical Form
Chapter 5: Controversy: The Aleatory Debates beyond Darmstadt
Chapter 6: Techno-Synthesis: From Vocoder Speech to Electronic Music
Epilogue
Glossary of Actors
Endnotes
Bibliography
Index
Paperback, published in 2019, 312 pages, 24 line ill., 36 halftone.
Medium: Book
Related Products