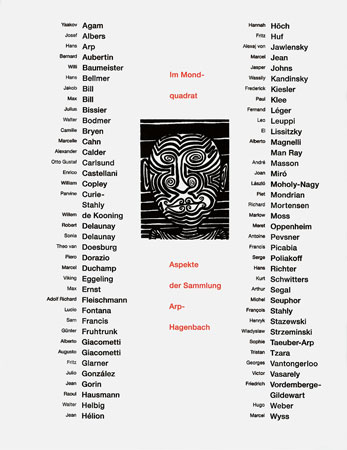 Various Authors - Im Mondquadrat – Aspekte der Sammlung Arp-Hagenbach
"Mondquadrat. Ich sage, Gelb ist schwarz, darum sehe ich nur Rotgrün. Es gibt kein Weiß. Der Eispol ist weißhohl. Er fällt mir wie ein Violettgeruch in die Kehle."
(from: Raoul Hausmann, Allergische Erleuchtung, 1959)
In German. Inspired as well as won over by the 1937 Constructivist exhibition in Basel, Marguerite Hagenbach-Arp, with the support of her artist friend and future husband Hans Arp, collected art of the past 20th century, works of geometric and organic abstraction, of Dadaism and of a Surrealism that outlasted the time of World War II. The aim of this publication is not to reconstruct this collection, amassed over more than three decades, but to present the most important aspects of the way it arose and evolved by means of comprehensive pictorial reproductions, documents from the time and biographical texts, as well as provide a survey of artworks from a concrete and constructivist origin.
Edited by: Toni Stooss
Authors: Jakob Bill, Marguerite Hagenbach-Arp, Georg Schmidt, Toni Stooss, Ludmilla Vachtova.
hardcover, thread-stitched, 216 pages, 191 color, 20 duotone and 3 black & white plates.
size: 11.25 x 9 inch. Published 2003.
Medium: Book
Related Products