Out of stock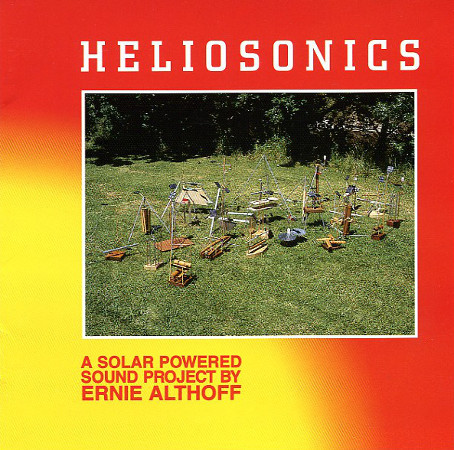 Ernie Althoff - Heliosonics
A solar powered sound project by Ernie Althoff
Heliosonics is a collection of 26 (one electronic, and 25 kinetic) percussive sounding devices designed to play in various outdoor spaces. All are powered by solar energy. This CD features 16 tracks on which groupings of the machines are recorded in specific environments.
The sound machines of Heliosonics can be divided into two groups in a number of ways. For instance, their sounding components are either of wood (bamboo or 'manufactured' plywood and dowel) or metal (aluminium or tinplate). A more important division is the grouping of those that sound continuously, and those that sound sporadically (thirteen in each group).
This continuous / sporadic division provides a simple yet effective way to categorise the sounds of the sea, cicada song and traffic hum against a sudden birdcall, the squeaky hinges of an opened gate and a bottle smashed in a back alley. The model for Heliosonics is the sound world of the environment – it is designed to emulate but not imitate.  Heliosonics partners the real world – and the real world plays Heliosonics .
70 minute CD, 12 page booklet insert with descriptive texts and colour photographs of the sound machines.
Medium: CD
Related Products