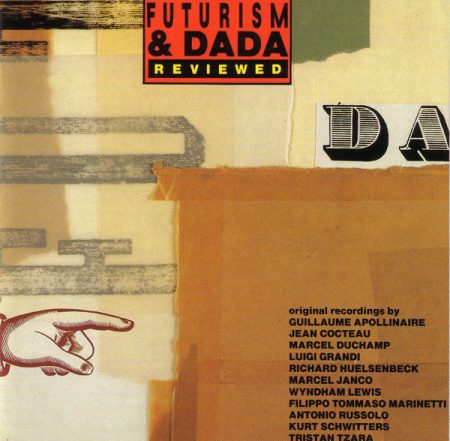 Various Artists - Futurism And Dada Reviewed 1912-1959
Popular primer CD compiling archive sound recordings made by leading figures from both key 20th century avant-garde art movements. Contributors include Filippo Tommaso Marinetti, Antonio Russolo, Jean Cocteau, Marcel Duchamp, Wyndham Lewis, Guillaume Apollinaire, Kurt Schwitters, Tristan Tzara, Marcel Janco and Richard Huelsenbeck.
The audio content includes interviews, tone poetry and avant-garde musical pieces, all recorded between 1913 and 1959. CD booklet contains detailed liner notes and archive images.
Tracklist
1. LUIGI RUSSOLO Risveglio di una citta
2. ANTONIO RUSSOLO Corale
3. F.T. MARINETTI Sintesi Musicali Futuriste
4. ANTONIO RUSSOLO Serenata
5. F.T. MARINETTI La Battaglia di Adrianopoli
6. F.T. MARINETTI Definizione di Futurismo
7. LUIGI GRANDI Cavalli + Acciaio
8. WYNDHAM LEWIS End of Enemy Interlude
9. GUILLAUME APOLLINAIRE Le Pont Mirabeau
10. T. TZARA/M. JANCO/R. HUELSENBECK L'amiral cherche une maison à louer
11. MARCEL DUCHAMP La Mariée mise à nu par ses célibataires, même
RICHARD HUELSENBECK Inventing Dada
TRISTAN TZARA Dada Into Surrealism
12. KURT SCHWITTERS Die Sonate in Urlauten
13. JEAN COCTEAU La Toison d'Or
14. JEAN COCTEAU Les Voleurs d'Enfants
Medium: CD
Related Products